13 November 2020
Share
---
better future new purpose partnerhip
Changing business to change the world: MIP announces new partnership to elevate purpose across the global corporate landscape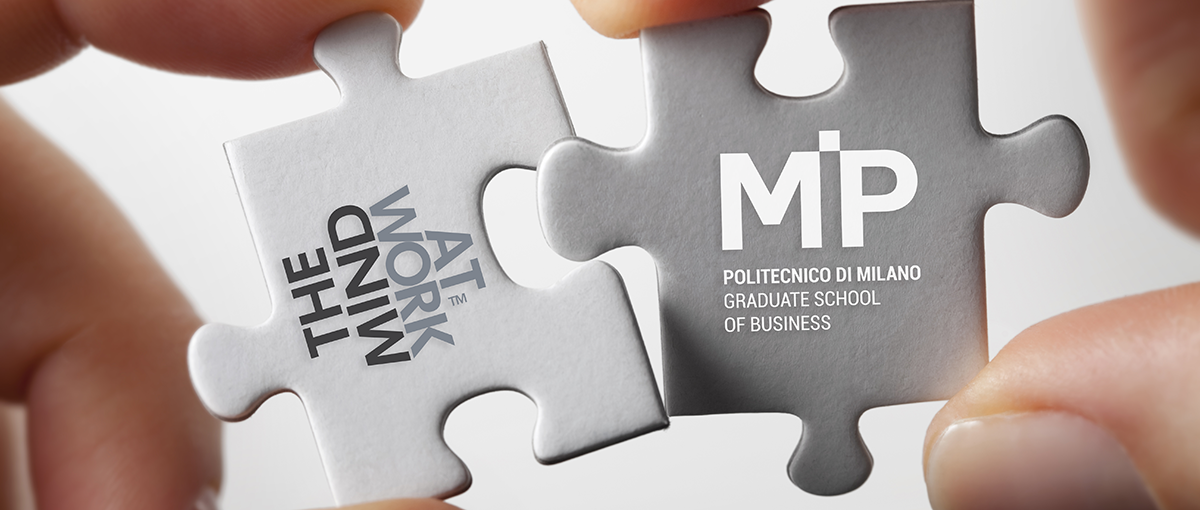 The Politecnico di Milano Graduate School of Business (MIP) has launched a pioneering partnership with independently owned consultancy The Mind at Work, that will challenge the prevailing orthodoxy of why a business exists. 
The collaboration showcases a combination of excellence across two distinct specialisms, bringing a new way for people to create business value by re-routing business strategy through the lens of human experience.
The initial focus of the partnership centres upon the re-alignment of the purpose, values and culture of MIP itself, which will in-turn enable a fundamental shift of the strategic direction and educational approach of the business school in the future.
Here we explore how The Mind at Work's ability to infuse purpose into the formulation and deployment of strategy, along with the MIPs long-standing history of innovation and rigorous methodological approach can create a new, high-performing type of organisation, built upon an elevated sense of purpose, meaning and stakeholder value.
The link between a better future and business schools – MIP's challenge:
"The business of business is business". This paradigm has dominated management theory and practice for the past 50 years but is currently being challenged in increasingly compelling ways. The impact of this traditional model is being felt in economic inequality, environmental degradation and social exclusion; with a new wave of leaders emerging, committed to re-purposing business beyond the narrow aim of "profit above all else."
Organisations face a profound choice to either be driven solely by profit or to revisit the role that they play within society at large. They are called to realise that profit is a means to a higher end. In a word, to achieve a purpose that has a positive impact on the whole system – not just on the financial bottom-line.
As part of this transformation, the aims of business schools are themselves required to shift from a limited purpose of simply helping individuals succeed in their careers, to embracing a wider, collective and elevated purpose that will reconcile the false paradox of purpose vs profit.
MIP has chosen to play a proactive, innovative and committed role in meeting this challenge through the establishment of its strategic partnership with The Mind at Work, who have developed deep expertise in the knowledge and application of purpose in relation to leadership, culture and strategy-making.
As MIP dean, Federico Frattini explains: "We want to inspire and stimulate our students and the organisations we work with to actively contribute to building a better future for all, engaging in a thorough overhaul of the role a leader must play as part of this change.
"In an effort to have these skills — i.e. the ability to connect the most external managerial dimension with the values and passions that motivate us — we have chosen to partner with The Mind At Work, a team of passionate professionals who have worked for decades on helping companies achieve remarkable results through the power of acting with purpose."
The human being at the centre
Business schools are the breeding ground of the corporate leaders of tomorrow and are uniquely placed to serve as the catalyst of this fundamental change. Yet, the work required to answer the important question "yes but how?" is only just beginning.
Co-founder and director at The Mind at Work, Darren Rudkin, expressed his delight at having this opportunity to partner a progressive, international business school such as MIP.
Darren said: "I have wanted to work with a business school for many years and I understood right from the start that the change being sought by Federico was not shallow, he genuinely wants MIP to put the human being at the centre, starting with MIP business school itself.
"We have a shared purpose to inspire a profound transformation to the overriding paradigm that has been followed by the vast majority of organisations over the past 50-years."
Darren went on to stress the importance of avoiding some of the 'purpose traps' that have already begun to emerge as purpose becomes somewhat of a buzzword.
He added: "There is now a real danger that purpose becomes a new word for an old idea or a simple repackaging of a mission statement. Purpose is not a repackaged mission statement, it is a fundamental human force, speaking to our inherent ability to create meaning and energy for all our engagements.
"It is not another word for sustainability, or vision, it is likewise untrue that purpose stands in opposition to profit – they are not two ends of a spectrum. Whilst terms such as sustainability or CSR are predominantly focussed upon the 'what' and the 'how', purpose stresses the 'why' or inner meaning and provides the energy that transforms 'business as usual' into something with the meaning to inspire and connect others.
"Purpose represents a present moment, alive and useful guiding force for the dilemmas leaders face each day in their decision-making, responsibility and conscious action. As such, a purposeful leader is one who is truly awake, vibrant and focussed upon something far bigger than the task.
"I am excited to invite MIP and its vibrant community of students into the deep knowledge and application of purpose. "
If there is a purpose, the results will follow
Liaisons between MIP and The Mind at Work were made possible by former Moleskine CEO, Arrigo Berni who is now an adjunct professor at the business school and partner at The Mind at Work Italy.
Arrigo added: "My experience is that, at first, finding a balance between the pressure for financial results and being true to a higher purpose appears a mission impossible.
"Ultimately, though, I realised that this dichotomy is in fact false: if you succeed in building a company where people pursue a common purpose, financial results will follow as a direct consequence. There is no contradiction between these two elements.
"This does not mean having to give up traditional analysis tools, but rather using them to develop and implement the purpose – and The Mind at Work knows how to do this."
Purpose is therefore core to everything. But it has to be genuine.
Darren explained: "Purpose is an opportunity to stop doing the same things over and over again. Organisations are like human beings, after a while, they tend to lose the awareness they may have had in the beginning.
"Conversely working according to a purpose requires continuous awareness. But it is very easy to fall back into old habits. What's more, since it is a paradigm shift that also affects corporate structure and practices, not all players on the field might be ready to embrace these changes.
"However, the biggest difficulty lies in the ability to fully understand that purpose is not just a word. Simply uttering it will not implement the change, you need to grasp its meaning fully."
Purpose-oriented teaching
MIP, which has already won the B Corp certification — an award extended to companies and organisations that "endeavour to disseminate a more evolved business paradigm" — wants to continue along this path.
"Our aspiration", concludes Federico, "is to train and inspire more conscious leaders and decision makers who are genuinely involved in building a more responsible society.
"We will first of all work on our corporate culture to ensure that change is genuine. And then we will overhaul what lies at the heart of business schools, our MBAs and EMBAs, to adopt purpose-oriented educational approaches".
For more information on MIP contact info@mip.polimi.it. For more information about or to contact The Mind at Work visit www.themindatwork.co.uk/contact-us/ or email arrigo.berni@themindatwork.it
---
Tags:
Share
---