27 November 2019
Share
---
#MIPexperience International Part Time MBA
A second great full-week experience
| Author: Pietro Cavallo, International Part Time MBA student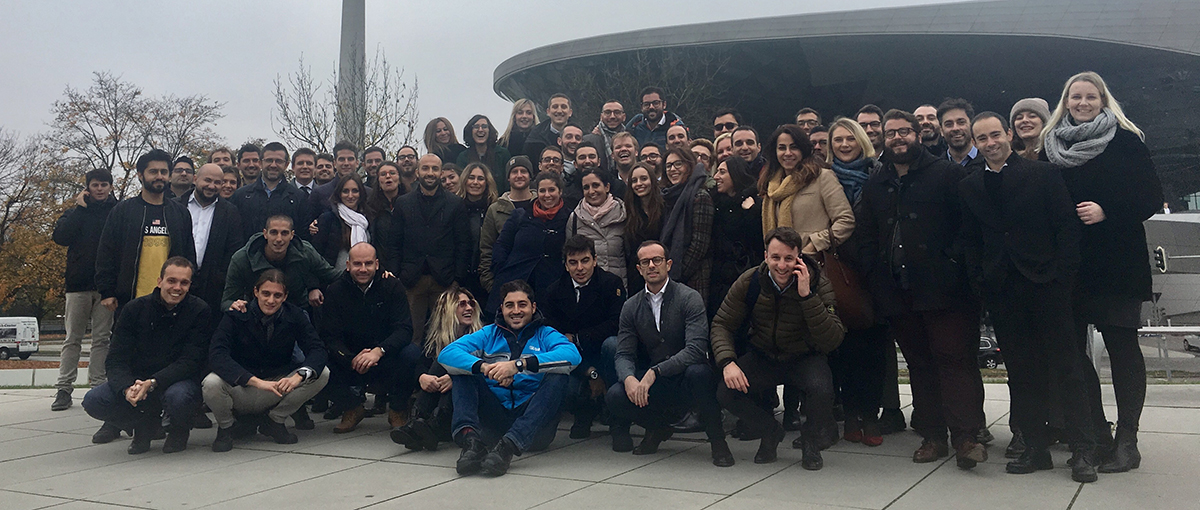 On October 27th, my MBA MIP class and I landed in beautiful Munich to start our second international full week.
It was an amazing experience, full of insights, interesting topics and great in-company visits.
It was also a closely-packed week (with activities from 9am to 6pm every day!) of learning and enjoyable breakthroughs with my classmates in the historic Technische Universität München (TUM) that has "given birth" to 17 Nobel Prizes.
Firstly the content: it was great to have three TUM professors leading us through the Finance, Project Management and Business Law modules.
For me, with my Master in Political Science, the lessons have been tough, but very helpful. More and more I am understanding that this MBA is helping me to better understand many aspects of my current company and I find myself applying what I am studying to my day-to-day activities in a practical way. Even if it is difficult, the professors were great in helping us to fully comprehend the contents. What amazes me is that now, during our working meetings in my company, I can follow every aspect with a critical view.
We had two touchpoints with companies, both of which were very interesting. MIP has chosen two leading German players in the industrial area (automotive and aviation sectors) and the meetings were very insightful.
Firstly, linked to the Finance module, we met Lufthansa on the revenue management issue. Employers who came in to speak about this interesting topic presented the subject matter clearly and in an engaging way.
Secondly, we had the unique chance of an in-company visit at BMW. We visited the historic Munich production site and it was amazing to listen to and see with our own eyes how some of the most high quality and beautiful cars are produced. In particular, we acquired a true knowledge of the extent to which timing and work organization are key in a process from the creation of a car to our daily activities.
Also, the fun part was not missing!
My classmates and I were able to stay together for another whole week! We spent the free evenings  together and enjoyed the German culture (especially German beer…) and visited Munich, that personally, I love!
I feel so empowered by this experience and so grateful for how much I am achieving in terms of content and competences, as well as in terms of networking and human relationships.
The Munich international full week has been a great part of this MBA and I just feel sorry we do not have the chance to do one more!
About the author
Pietro Cavallo

My name is Pietro and I grew up in Milan, where I am currently living. I work in Switzerland, in the Supply Chain division of a clothing multinational. I am the husband of an incredible wife and father of 1 crazy kid and ½…  I'll keep you posted when the second ½ arrives…
---
Tags:
Share
---