26 June 2019
Share
---
#MIPexperience International Part Time MBA silicon valley
Silicon Valley Experience
| Author: Pedro López Estepa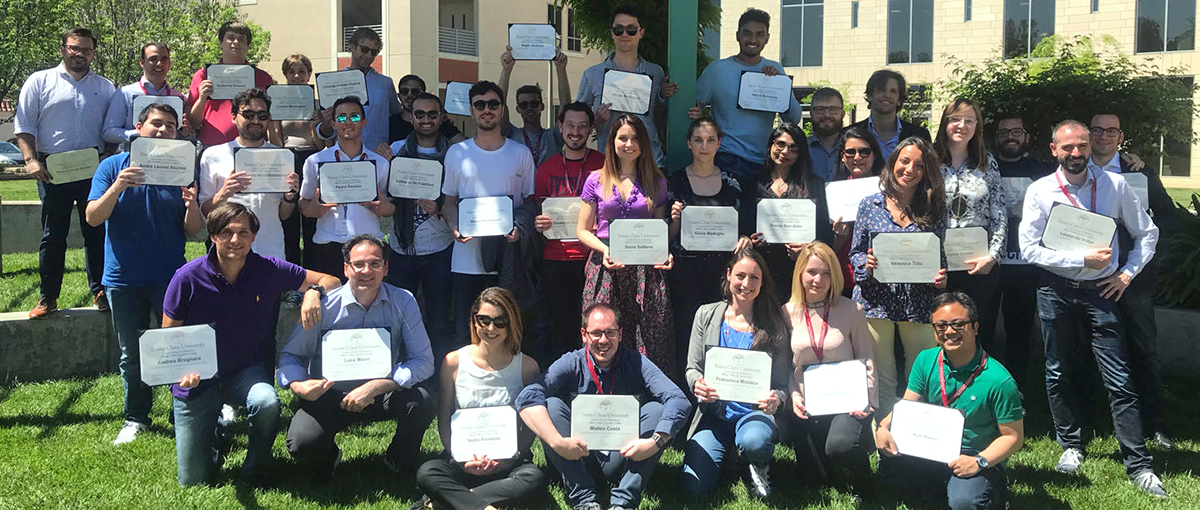 Technology entered my life the day I built my first AM radio together with my father, to look after my baby brother. That was just the beginning and from there on, my interest just grew exponentially. Vacuum tube music amplifiers, machines or any other devices to design, repair or program became my playground, leading to the point at which my passion was converted into discovering and learning new technologies, so into my profession. So you can easily imagine that the opportunity to go where it all started was something I would not let pass by.
I want to start by saying that going on either vacation or even business to the Bay Area will not be assimilated in any way with what The Silicon Valley Experience means. I have been to Silicon Valley repeatedly on business and for holidays, managed relationships with suppliers and customers in this area and even worked with teams in my company which were located in the Bay Area, but what this program provides is nothing comparable.
Let's begin with the environment. The University of Santa Clara takes you on a journey which, if you have never studied previously in the States, you will find overwhelming. The campus creates the perfect ecosystem for setting your motivation at the highest level. But without any doubt, the best is to come.
As a customer, partner or supplier, I have often asked myself about the mechanisms that drive Silicon Valley. You can read articles, watch videos or spend a reasonable amount of time interacting with Bay Area firms and not figure it out. Here is a case where meeting a selective group of key players in this environment will change your perception forever.
First, you can get the inside story from major Venture Capital investors and hear what makes companies successful, how many who start with such a process carry it through, how each financing round will have its own challenges and will be crucial for achieving the overall goal and, even more importantly, what is the mindset at both ends of the table, entrepreneurs and investors.
Second, reviewing the financial and marketing strategies applied in this unique ecosystem is instructive. This inside information will come from key members of academia and industry, plus there are invaluable contributions such as that by Prof. Hersh Shefrin.
The last part of this journey was completed by visiting some of the most successful companies in Silicon Valley and sharing time with some of their renowned executives. At these visits, I realized another unique factor surrounding the valley, and this is how top executives will spend their valuable time discussing with a group of MBA students rather than focusing on other aspects of their lives ̶ giving back part of their success to society, transferring knowledge to others. During these sessions, they shared their life's achievements and failures, the process that brought them to this point and the unique socioeconomic factors that allow Silicon Valley to be what it is.
So the message I learned during this journey is clear, as much as you might learn about finance, social economics and investment anywhere else, nothing would be comparable to an experience such as the one provided by the MIP Silicon Valley Experience. As already mentioned, it is extremely hard to find those things that will take you to a higher level, and without any doubt, this program is one of them.
I hope you have enjoyed this article. In the next one, I will focus on how my perception of the day-to-day in a public company changed drastically during my MBA program and will discuss how to increase your value and engagement using all the tools provided during the MBA journey.
About the author
Pedro López Estepa
I am Pedro López Estepa, an International Part-Time MBA student at MIP Politecnico di Milano. I received a Master in Telecommunication Engineering from Granada University in 2010, spending the last year, including the Master Thesis, at the Ecole Polytechnique Federale de Lausanne.

My career has been focused on high-tech corporations, initially as part of their R&D departments and during the last few years, the focus has been on developing long-term strategic partnerships in different sectors, including IoT, Automotive, Robotics and Medical.

Being part of u-blox strategy team allows me to working with international cross-functional teams inside and outside the organization, key partners, investors and at the same time that contributing to worldwide projects as business opportunities arise.
---
Tags:
Share
---