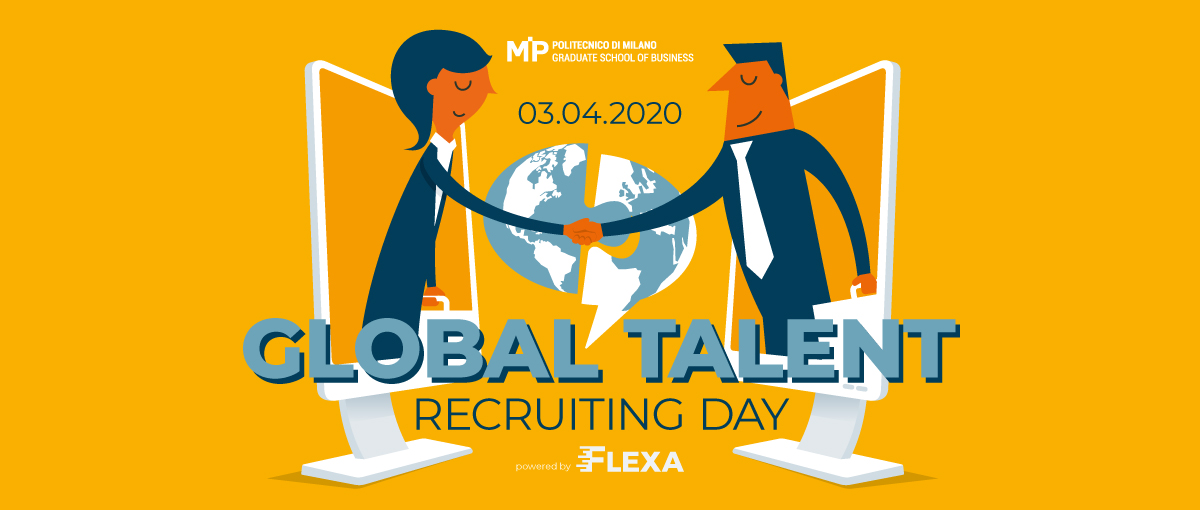 MIP and Politecnico di Milano are facing the emergency of these days, thanks to a consolidated expertise on DIGITAL, implementing a rapid and effective turn on distance learning. Here the recognition of the Financial Times.
In line with this strategy, we are glad to confirm the annual Global Talent Recruiting Day which will be managed on a digital platform.
Companies, assigned to their own sector (Technology & Digital | Industrial & Energy| Retail & Consumer Goods| Luxury, Fashion & Lifestyle| Consulting & Finance) will have the opportunity to:
Access a virtual room
Schedule interviews throughout the day
Better manage the time of interviews
Meet International Master candidates coming from more than 30 countries all over the world, representing different cultures and speaking at least another language in addition to English.
The event is open to MIP International Specialising Master candidates, available from May 2020 for internship/job opportunities in companies.
Specialising Master candidates have an international background and 0-2 years of professional experience in different sectors and functional areas such as Supply Chain & Procurement| Business Analytics & Big Data| Marketing Management, Omnichannel & Consumer Analytics| Luxury Management| Industrial Management| Project Management| Innovation & Entrepreneurship| Fintech, Finance, and Digital Innovation |  International Full Time MBA
HOW TO PARTICIPATE
The participation in this event is reserved for a limited number of companies belonging to the MIP network.
The deadline for registration is March 16, 2020.
Discover how to become an MIP Partner. For further information please contact: Company&PartnerCare@mip.polimi.it
Concetta Lombardo: 342 1479806
Daniela Mataro: 349.8147209
Elisa Zagami: 327.9776213
AMONG COMPANIES ALREADY INTERESTED IN ATTENDING THE EVENT
AMPLIFON| AXPO ITALIA| AUTOMOBILI LAMBORGHINI| BIP| BOEHRINGER INGELHEIM|BTS ITALIA| CAPGEMINI| CEMP| CEVA LOGISTICS ITALIA| COSTA CROCIERE| DANIEI & C. OFFICINE MECCANICHE| GENERALI| GRUPPO NESTLÉ| CARREFOUR ITALIA| HILTI| IBM ITALIA| IKEA PURCHASING SERVICES ITALY| ILLIMITY BANK| KONE| KPMG| L'OREAL| LEROY MERLIN ITALIA| MAILUP GROUP| MARELLI| MARSH| NTT DATA| OTB|SC JOHNSON ITALY| SIA| SCHNEIDER ELECTRIC| SUCCESSORI REDA| TEAMSYSTEM| WHIRLPOOL|