23 June 2020
Share
---
award innovation supply chain & operations Sustainability
Amazon Innovation Award 2020 – PrimePeerz, an innovative and sustainable project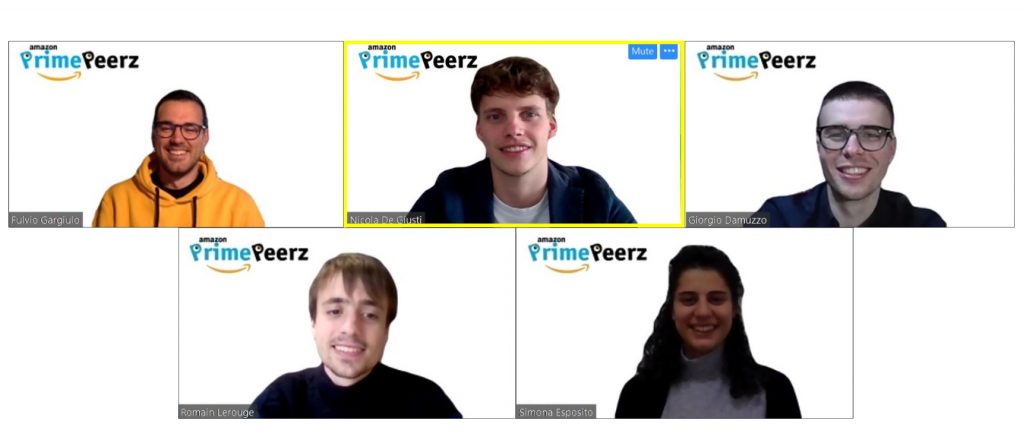 Five students in their second year of the Master's Degree in Management Engineering have won first prize in the Amazon Innovation Award 2020, with the PrimePeerz project.
Giorgio Damuzzo, Nicola De Giusti, Simona Esposito, Fulvio Gargiulo and Romain Lerouge faced the competition as an integrative project during the Logistics Management course held by Professors Alessandro Perego and Riccardo Mangiaracina, going up against 300 other students from Italian and French universities.
They decided to work on sustainability: they were tasked with devising an innovative solution for the processes of product pick-up, packaging, shipping and returns, which would be as efficient as possible and at the same time would result in a reduction of CO2 emissions, an issue which is very important for Amazon at the moment.
The team's idea focuses on "last mile" delivery, the core concept is the relational economy of human beings, with the intention of exploiting the existing social ties between Amazon's large customer base in order to reduce the company's environmental impact.
PrimePeerz aims to establish further consolidation points in the downstream logistics network, by aggregating orders from customers that are linked to each other, thereby reducing the number of shipments, the resulting transport costs and greenhouse gas emissions.
"We are very pleased with the victory, because it shows that we have managed to capture both academic interest and recognition from Amazon, and for us this means we have reasoned in the right way."
The award, postponed due to the current epidemic, includes a trip to Seattle, where our students will present their idea to managers at Amazon's headquarters.
Amazon has selected their project to represent the Politecnico di Milano at the national finals, in competition with the Politecnico di Torino and Rome Tor Vergata. In the final, which took place remotely on April 17, Amazon then decreed their project as the winner of the contest.
"It was a shame for us not to be able to celebrate the victory all together physically and to be able to meet Amazon's representatives in person. We hope to make our dream come true and visit Amazon's headquarters in Seattle once the health containment measures are completed."
---
Tags:
Share
---