DIGITAL MBA RECRUTING DAY
Start: Sep 24 | 09:00 am
End : Sep 24 | 01:30 pm
Category:
Tags:
---
---
via Lambruschini, 4C 20156 Milano Mi
Google Map - External Link
---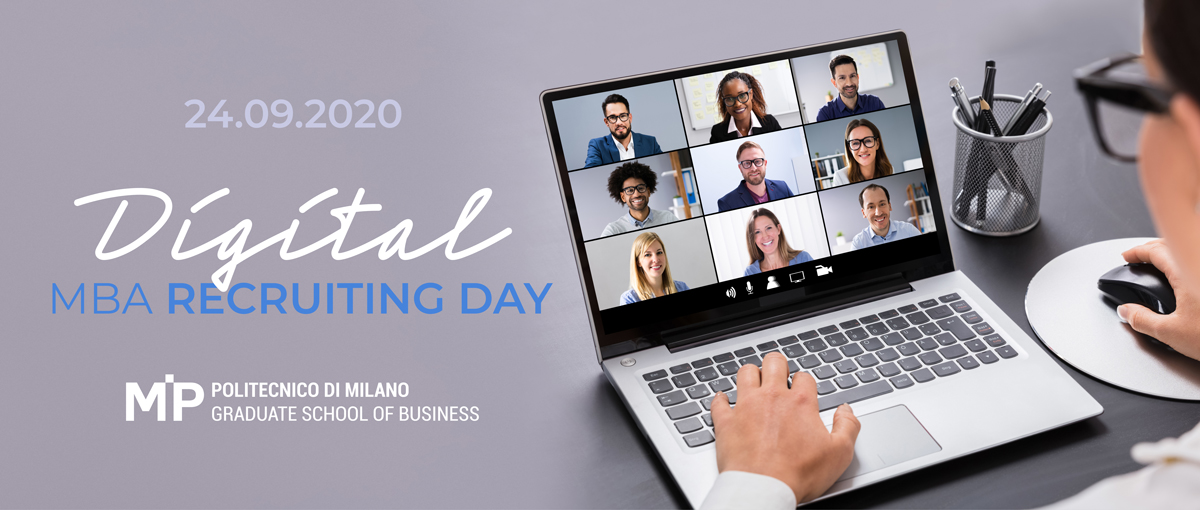 September 24th 2020 | h 9.00 am – 1.30 pm
Following the success of the first edition, MIP launches the second edition of the Digital Recruiting Day, September 24th 2020, from 9.00 am to 1.30 pm.
The Digital MBA Recruting Day is dedicated to the graduates of the International Master in Business Administration (class 2019-2020), available for career opportunities and new challenges.
Within a particular context that challenges physical displacements and personal interactions, MIP strive to foster direct contact between recruiters and candidates, giving the opportunity to preserve personal interaction in total safety from your own workstation through digital instruments.
Participating companies can promote and sponsor their career opportunities, get candidates application before the event and schedule interviews during the day.
MBA candidates have an international background (more than 20 nationalities represented) and a 5 years average of professional experience in different sectors and functional areas such as: Sales & Business Development | Strategy | Operations | Marketing & Communication | Analytics and Big Data | PM | Digital Transformation.
Before and during the MBA Recruting Day, Employers will have the opportunity to:
share recruitment initiatives and job opportunities;
view in advance the profile of the candidatesget applications in advance;
schedule interviews with the selected and best fitting candidates;
access dedicated virtual rooms.
Further details regarding the job posting will be shared after the registration.
How to participate
Participation to the event is reserved for a limited number of companies belonging to MIP network.
The deadline for registration is July 28th, 2020
Find out how to join the event, contact the Unit: Company&PartnerCare@mip.polimi.it
PARTICIPATING PARTNERS OF PREVIOUS DIGITAL RECRUITING DAY 2020