Start: May 26 | 09:00 am
End : May 29 | 06:00 pm
Category:
Tags:
---
---
Via Longano, 7 80076 Capri NA
Google Map - External Link
---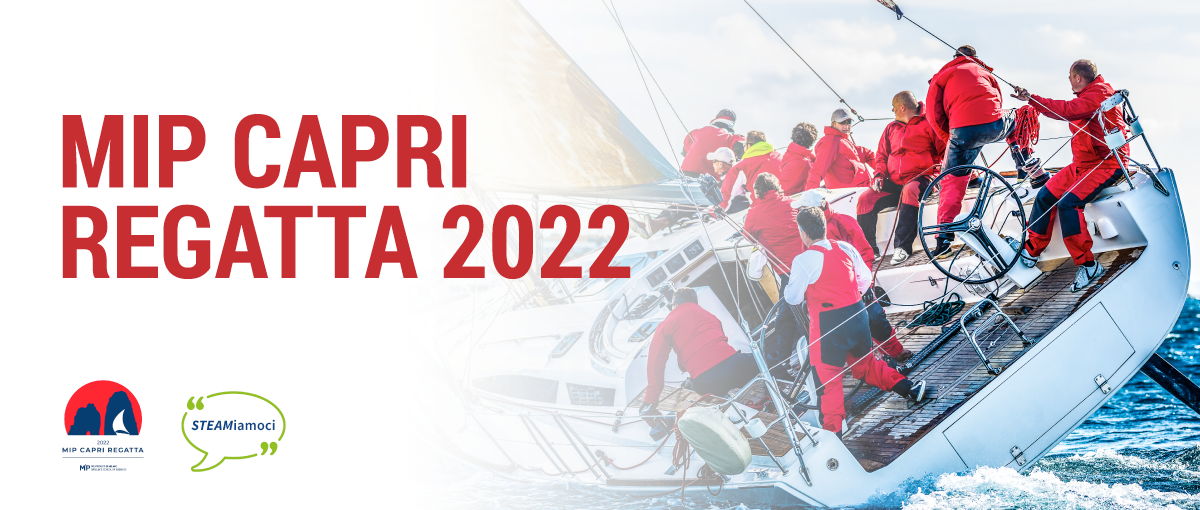 The organization of the second edition of the MIP Capri Regatta has begun: an extraordinary weekend of races, conferences and fun at the Yacht Club Capri, located in the Marina Grande of one of the most beautiful islands in the world, to be held on the 26th, 27th and 28th May.
This edition will be hosted between Capri and Procida and will combine the sailing competition with cultural events on the themes of diversity & inclusion.
The Regatta, which involves our and other national and international business schools, was born from the idea of the MIP Sailing Club, a group of MIP alumni who love sailing and to support some issues of significant social and economic impact: that of diversity & inclusion on one hand and the importance of STEM (Science, Technology, Engineering and Mathematics) skills on the other.
For this STEAMiamoci, a project launched by Assolombarda in 2016 to increase the presence of women in the scientific and technological professions, will be an integral part of the organization and women – both in the competition and in other key moments of the Regatta – will be protagonists.
Agenda
Thursday 26 May – Procida, Captal of Culture 2022
Welcome drink
Visit to the exhibition on the monitoring of pollutants in coastal and river waters, management and sustainability of marine ecosystems
Live streamig with San Diego University for a speeche by Carol Maione, Phd Politecnico di Milano, on issues concerning the fight against marine pollution and sustainability
Dinner at Ristorante Sud, chef Marianna Vitale, Michelin Award Chef Donna 2020(more information at this link)
Friday 27 May – Capri
Breakfast
Procida-Capri regatta (17 miles), arriving in Marina Grande di Capri
Lunch on board
Ground game
Free evening to visit the beauties of Capri
Saturday 28 May – Capri
Breakfast
Coastal regatta to circumnavigate the island of Capri
Lunch on board
Conference and award ceremony
Gala dinner
Sunday 29 May – Capri
Breakfast
At the choice of the participants: free navigation with return of boats to Procida
Departure of the participants for their destinations of origin
Do you love sailing and would you like to participate? Contact us to find out more or to become a sponsor of the event: sailingclub@mip.polimi.it
Join our WhatsApp group to stay updated on the Program!
PARTNER