4 April 2023
Share
---
International Flex MBA Ranking
QS Online MBA Ranking 2023: POLIMI Graduate School of Management is fourth in Europe with the International Flex MBA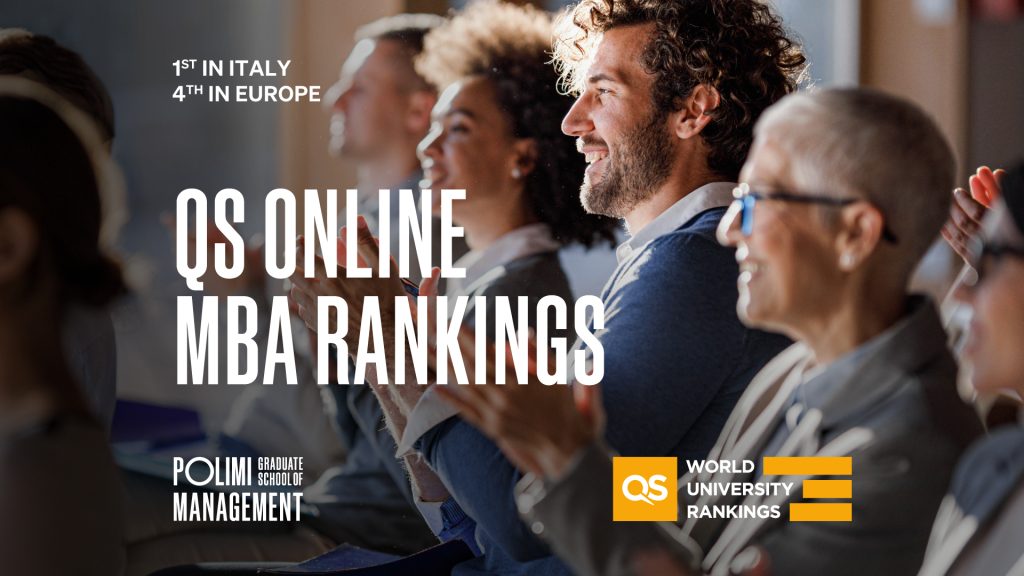 The School of Management of Politecnico di Milano flies to fourth place in the European rankings and is placed first for the quality of Faculty and Teaching
The QS Online MBA Rankings: Europe 2023, Quacquarelli Symonds' periodic classification of the quality of business schools at international level, has confirmed the excellence of POLIMI Graduate School of Management. Thanks to its International Flex MBA (Master in Business Administration) delivered in digital learning, the Milanese University's business school is fourth in Europe out of 26 schools evaluated. Furthermore, particularly outstanding is the International Flex MBA's placement as 1st at European level with respect to the "Faculty & Teaching" criterion (with the quality of lecturers and teaching measured annually by surveys on more than 100,000 academic profiles worldwide), achieving the best result ever since the school entered the league table.
From an analysis of the individual parameters on which the ranking is based, in addition to the European record for the quality of Faculty and Teaching, the parameters of Employability and Class Experience are also highlighted.  As regards Employability, POLIMI GSoM ranks 5th in Europe, whereas the Milan University's business school is placed 3rd for the value of the Class Experience, understood as the digital learning experience offered to participants.
"This recognition comes just a few weeks after that of the Financial Times; being placed among the top European business schools with our digitally taught Executive MBA also by the authoritative QS rankings once again certifies our leadership in the field of innovation and digitalisation of management training", remarked Vittorio Chiesa and Federico Frattini, respectively President and Dean of POLIMI Graduate School of Management. "The first place in Europe for the quality of our Faculty and Teaching is a historic achievement, which can only make us proud as it contributes to further enhancing the reputation enjoyed by our school."
POLIMI Graduate School of Management has appeared in the QS Online MBA Rankings since 2018, when it entered directly in 20th place in the world. Since then it has remained a constant in the classification, already featuring in the top 10 in the following year, remaining there also in each subsequent year. If we consider that 2023 is the year in which the QS rankings have classified the largest number of business schools ever, this year's result is the best since the Milanese business school entered the rankings.
Powered by one of the most advanced digital learning platforms in the world, POLIMI Graduate School of Management's International Flex MBA is designed to prepare qualified and motivated managers to lead businesses in a market of disruptive and rapidly evolving technologies. The duration of the Master varies from 15 to 32 months and is accessible to managers with at least 3 years of work experience, also facilitating students with a flexible method and in perfect balance with work commitments.
POLIMI Graduate School of Management's excellent educational portfolio includes approximately 40 Masters annually, including 7 MBAs and Executive MBAs, 300 management training programmes and various tailor-made projects for companies.
---
Tags:
Share
---