20 March 2020
Share
---
non profit SDG
School of Management for SDGs: the award for theses that impact Sustainable Development Goals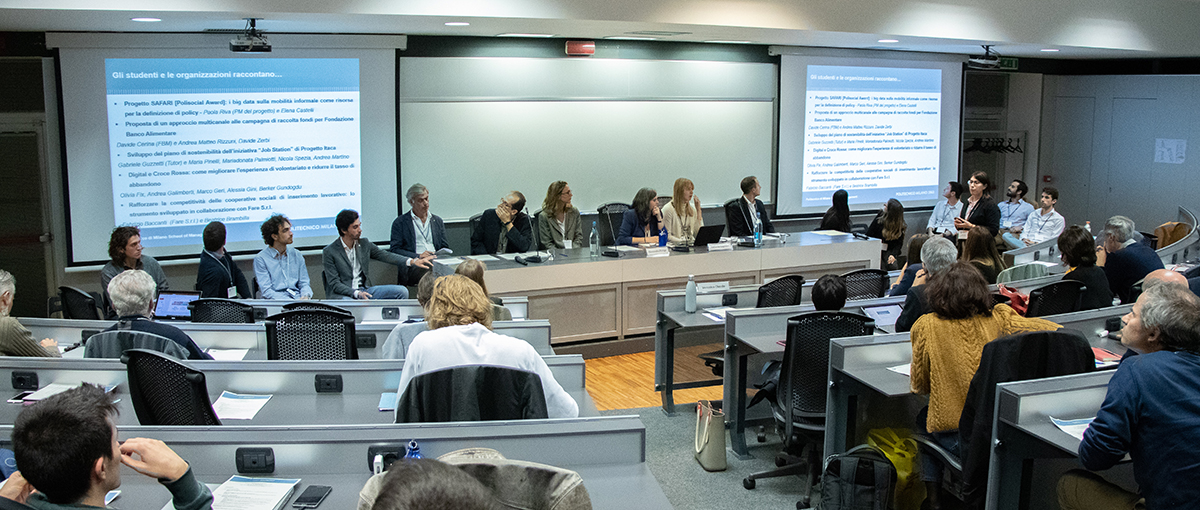 Claudia Cuttini, Celine De Vincenzi, Giulia Montuori, Anabel Velazque, Rocco Abbattista, Giulia Madoglio, and Sonia Saibene: these are the winners of the 2019 edition of the SOM award "for SDGs", presented yesterday at the "School of Management for Non-Profit Organisations" event held at the Department of Management, Economics and Industrial Engineering.
The award relates to Final Theses and Projects by alumni of the School of Management that impact Sustainable Development Goals, making a contribution to resolving the social challenges of our times, as well as proposing models for sustainable development on an environmental, economic and social level.
There were 27 applicants who presented their work (18 Laureati Magistrali [equivalent to Master of Science] in Management Engineering, and 9 MBA Alumni and other MIP Masters), assessed according to four criteria: impact on SDGs, innovative content, methodology used, and transferability and replicability of the results.
In their MSc theses, Claudia Cuttini and Celine De Vincenzi addressed the issue of reducing food waste along the agri-food supply chain, whilst Giulia Montuori tackled patient experiences with cancer-fighting therapies.
The winning projects, meanwhile, regarded Data Science, in the case of Anabel Velazque (Master in Business Analytics and Big Data) and environment, in the cases of Rocco Abbattista, Giulia Madoglio and Sonia Saibene (International Part Time MBA).
The event also aimed to bring together non-profit organisations in order to share the experience accrued and results achieved within the "School of Management for the Non-Profit Programme", as well as to launch a new cycle of collaboration.
Establishing ties with non-profit organisations and social companies plays a central role in the programme, which was launched in 2017 with a view to enhancingand forming the School's social and environmental sustainability and business ethics initiatives into a coherent wider strategy.
This programme provides a space for mutual collaboration and discussion with the non-profit world, facilitating contact between these organisations and the School's students, professors and staff, in order to make skills available and develop projects jointly.
Over three years, more than 400 students have put themselves to the test, dealing with the knowledge and management challenges posed by non-profit organisations and social companies, running more than 100 projects involving Laurea Magistrale [equivalent to Master of Science] theses and projects, under the guidance of 20 professors and researchers.
An increasing number of the School's students and teaching staff see social organisations as central players in the economy and in society, and the services sector is an area in which Management, Economics, and Industrial Engineering is increasingly being applied, with scientific interest also growing in step with it.
Internships for students and graduates in the Master of Science Degree in Management Engineering and the MIP Graduate School of Business are yet another way of exchanging knowledge.
In addition to teaching, research projects have also been run with various organisations, the aim of which is to increase the opportunities for joint demonstrations, skill development and research activities. Finally, the School assists non-profit organisations and social companies with their internal training needs.
---
Tags:
Share
---