12 May 2020
Share
---
#MIPexperience Bootcamp soft skills
The elective courses make the MBA path unique, tailored to your own goals and expectations
| Author: Andrea De Donatis, International Part Time MBA candidate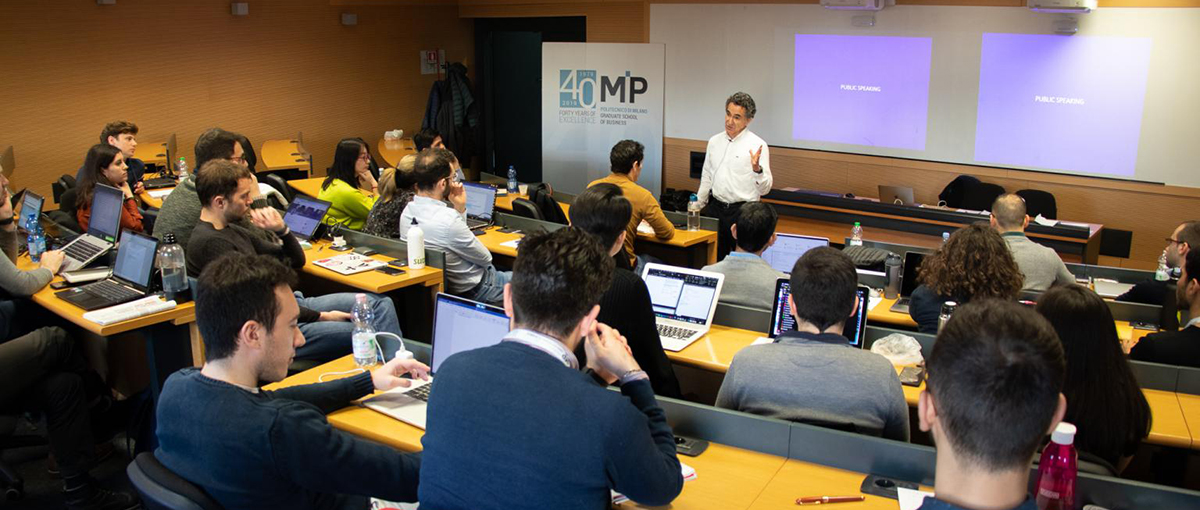 In addition to traditional lessons, the International Part-time MBA program as defined by MIP and the Politecnico di Milano School of Management includes in-company classes, elective courses and the opportunity to attend some courses abroad, thanks to the International Exchange Program.
When I decided to enroll in this MBA, I was working in a big multinational company. I thought that this MBA could help me to develop my soft skills such as team building and managerial leadership, teaching me to be responsible not only for myself, but also for my whole team and, at the same time, to acquire new knowledge and boost my career. So I never had any doubt that the elective courses I would choose would be "Soft Skills" and "Global Management Bootcamp".
Elective courses are open to students from the International Full-time, Part-time and FLEX MBA courses, and also to Exchange students from partner schools.
I followed the Soft Skills course during the first academic year. In this class we analyzed the personal skills required to succeed and developed a personal plan for reaching our professional goals, guided by professor Filippo Passerini, former CEO of Procter and Gamble, and professor Emre Soyer, behavioral scientist in the Business Faculty at Istanbul's Ozyegin University.
Both are professionals with great experience and personalities who have achieved ambitious goals and prominent positions in their careers. Their lessons focused on topics such as emotional intelligence, effective communication, problem solving, people and change management.
During the second year I followed the Global Management bootcamp, focused on the business skills relevant for pursuing managerial careers in an international context. This year the course was conditioned by the fact that a few days before the bootcamp week, the Italian health institutions decided to close all schools and universities as a precaution amid the Covid-19 outbreak.
MIP decided to respond to this emergency situation by using the experience, gained over the past years, in providing teaching digitally. Only three days later, the Global Management course professors were ready to provide all the scheduled lessons online.
The course ended with a group presentation about the assessment of a country's risks and opportunities for international business. On this particular occasion, the "working in virtual teams" course that I followed at the beginning of the first academic year was certainly useful and once again demonstrated the avant-garde level of the master's program.
During this period not only lessons and teaching activities were carried out as planned but MIP also organized specific lectures, such as those on the prospects for the Italian economy or the Career Workshops in light of the current coronavirus evolution.
There is no doubt that MIP has been able to respond to this emergency situation in the best way, also being an example to other schools and institutions. However, I am very happy to have had the opportunity to personally and actively follow the Soft Skills elective course held by two professors with great charisma such as Passerini and Soyer. Not all sensations and emotions can be transmitted in the same way through digital tools, although highly innovative, and that is why typically courses on this topic are usually provided on campus by the school.
About the author
Andrea De Donatis

I am Andrea De Donatis, a student of the international part-time MBA at MIP Politecnico di Milano. I Graduated in energy engineering and I am currently working in technical sales for a leading multinational electronics company based in Milan.
I am very passionate about technology, IT and digital marketing. I strongly believe that disruptive innovation is vital to create new value.
---
Tags:
Share
---