17 April 2020
Share
---
Alumni coronavirus EMBA Part Time
«Thanks to my EMBA, today I know how to handle the mask emergency»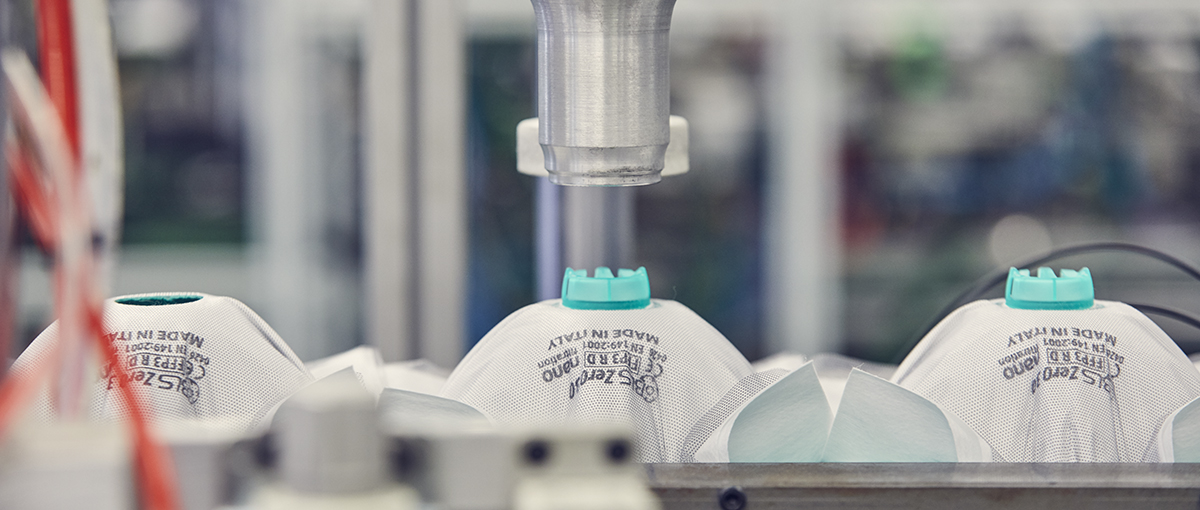 PierPaolo Zani, MIP alumnus and general manager at BLS, a company that manufactures protective devices for the respiratory tract, tells us about the impact the coronavirus has had on business on a human and organizational level. Explaining that, with solid foundations and a clear mission, even the hardest stress test can offer an opportunity
Can a moment of great stress, for a company, translate into an opportunity? Yes, if the company has solid organizational foundations and a clear strategic vision of its business. In the space of just a few weeks, BLS, an Italian company that manufactures protective devices for the respiratory tract, more commonly known as "masks", found itself in this position. «Already at the end of January, before the Covid-19 contagion had extended to Italy and the rest of the world, orders shot up in a way that until that moment would have been unthinkable», says PierPaolo Zani, general manager at Bls and alumnus of the Part Time EMBA at MIP Politecnico di Milano. «Until a few months ago, the demand for masks came from customers who needed to protect from pollutants in industries. This posed a problem for us: what to do, in this moment, to satisfy the demand of our long-time customers, and at the same time help out the civil protection authority and the country?»
The challenge of BLS between today's emergency and tomorrow's trends
Not a small dilemma, on which Zani and his team had to reflect deeply before coming to a decision: «We managed to find a balance.  And we did it by going back to our corporate mission: protecting people and doing it well». The jump in orders risked generating a series of organizational difficulties: «I must say, however, that we had already been observing the situation for some time. It's essential to pay keen attention to all signals that could have an impact on your business, even if they are small signals».
From a strategic point of view, then, it also becomes important to take into consideration the changes that could result from the coronavirus epidemic: «We don't know how long this emergency will last, at a global level. However, we do know that the use of masks in the West could follow that which is the Asian model, characterized by a greater use of these devices at the consumer level, regardless of the pandemic. Throughout this period, the challenge will be to maintain a straight course, but we will also have the principles of our mission guiding us». And it's possible to do so, explains Zani, also because the company has made far-sighted choices: «We have worked hard to enter long-term contracts, that ensure our operations, and we can count on back-up suppliers. This situation is an authentic stress test: but our foundations are solid, that's why we're holding up».
But for Zani there's an element that's even more important, that truly makes the difference: «People. Never so much as now have we been repaid by our ethics, which require us to protect all people in general, as well as those that work with us. In this period, it's essential to establish a dialogue with production, reinforce hygiene standards, guarantee a secure workplace».
An EMBA to test your dedication
Indeed, Zani has always had a strong interest in the role the human element plays in a company. «This was perhaps the aspect that above all else pushed me to enrol in the Part Time EMBA programme at MIP. I felt the need for improvement. I needed new, more effective and fine-tuned instruments. I wanted to delve into the principles of organizational behaviour. And from all these points of view the master's was truly helpful». The part-time format of the EMBA also put the commitment and the dedication of Zani to the test. A sort of small, personal stress test: «The advice I give to those who are preparing to begin this master's is to face it with the maximum commitment. It can be challenging to find a balance between work, private and academic life; but the return, in terms of skills and career opportunities, is very high. It's truly worth the effort of devoting yourself completely to the programme. I also like to remind people that BLS has a very close relationship with the Politecnico di Milano, with which we are supporting the creation of a startup, a spin-off from the university, and have already worked together with on different workshops. And we always keep a close eye on the talented people we meet in the classroom», concludes Zani.
---
Tags:
Share
---