23 May 2022
Share
---
dig ingegneria gestionale Management Engineering
The Department of Management, Economics and Industrial Engineering in a new guise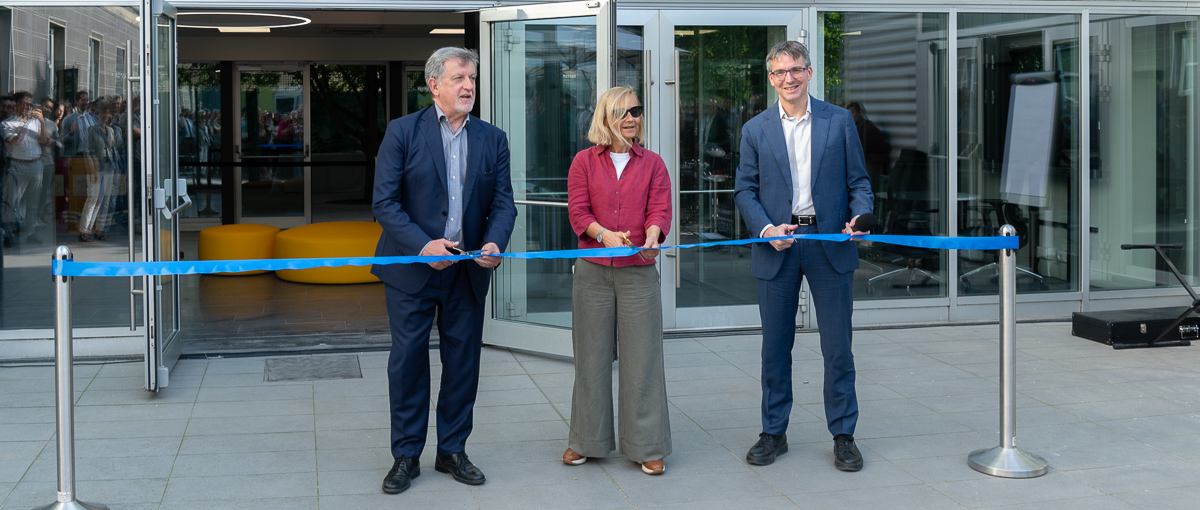 After 9 months of renovations, the building in via Lambruschini in Milan is now ready to welcome again the community of the School of Management with completely renovated spaces.
The cutting of the ribbon, together with the Department Director prof. Alessandro Perego, was attended by Prof. Donatella Sciuto, Vice Rector and prof. Emilio Faroldi, Deputy Rector of Politecnico di Milano.
The new spaces of the Department of Management, Economics and Industrial Engineering located in the Bovisa Campus of the Politecnico di Milano were inaugurated a few days ago.
Designed on the basis of innovative usage concepts, the new environments are characterized by better lighting, energy saving systems and a biophilic approach. In particular, they have been designed to stimulate exchange and sharing thanks to a greater availability of common areas with different functions and a highly integrated technological service.
The project aimed at both individual well-being and at favoring the encounter allowing great flexibility of use.
The Department moved to the Bovisa Campus in 2009, when the university made available some new buildings following the renovation of the gasometers area. The historic campus of Piazza Leonardo da Vinci was in fact in need of new spaces due to the increase in the number of students, as well as teaching and administrative staff and the project allowed the relocation of some Departments from Città Studi to the North part of the city.
After more than 10 years in Bovisa, the Department decided to renovate not only due to the increase in the number of researchers, but also to adapt to new working habits that in recent years have become more digital, flexible and collaborative.
The Bovisa area was rebuilt following an international competition launched in 1998 by the Politecnico di Milano in collaboration with local authorities (Municipality of Milan and Regione Lombardia).
And now time has come to complete that project started out of a vision of 30 years ago, with the creation of a university citadel whose construction should start by the end of 2022: forty thousand square meters that will become green, the two gasometers transformed into an innovation center hosting companies and two hundred start-ups, and in a four-storey wellness and sports center open to the whole city.
Photo gallery of the inauguration event
Credit: Matteo Bergamini, © Lab Immagine Design POLIMI
Dipartimento di DESIGN, Politecnico di Milano
labimmagine-design@polimi.it
The new spaces

---
Tags:
Share
---