20 April 2022
Share
---
#MIPexperience International Part Time MBA
Three things that I didn't expect when I enrolled for my MBA
| Author: Davide Ritorto, International Part-Time MBA student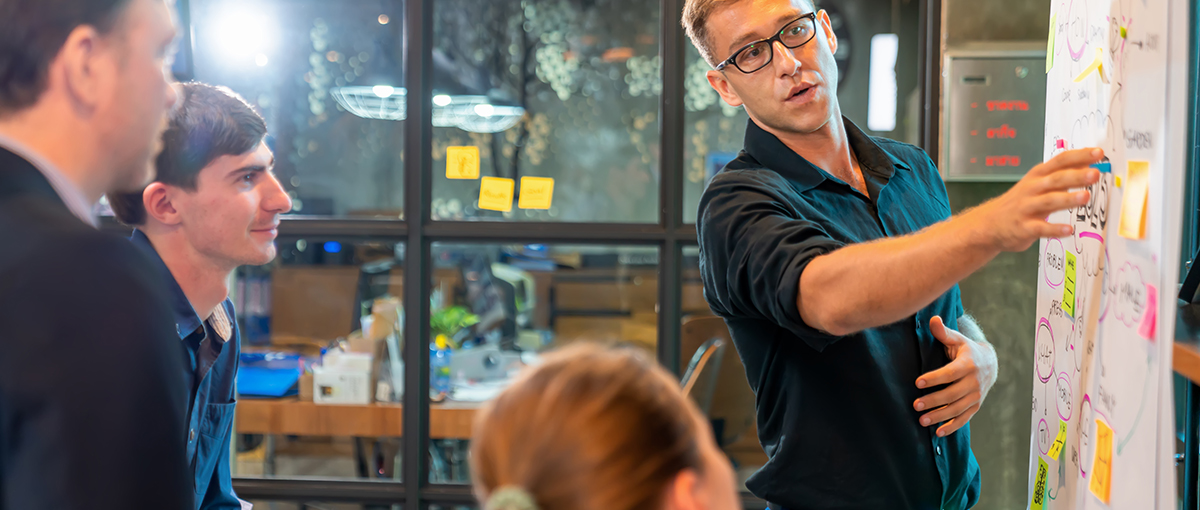 Now that I am deeply immersed in the International Part-Time MBA journey (read my previous article to better understand why I use the word "immersed"), I would like to highlight three aspects that I didn't specifically know or expect when I sent off my application for the selection process more than a year ago:
The number of resources and tools provided by MIP
I should probably write a specific article for each and every one of them. I will try to be concise.
These resources and tools are very useful for any aspect related to your MBA journey or, more generally, to your career and personal growth. They include:
D-Hub: MIP's digital learning platform, all the teaching materials needed, including clips, case studies, assignments, slides, etc, but also the recorded lessons or webinars. What I didn't expect was the great quality of the clips provided before the lessons in order to prepare for them, which give all the information needed in a clear and structured way.
Flexa: a one-of-a-kind personalized and continuous learning platform developed by MIP featuring the latest Microsoft AI tools. It is a really useful tool for career development because it allows you to perform self-assessments of your skills, to set your professional goal and to receive tailor-made learning material, to receive suggestions of people to connect with or even job opportunities based on your profile. Good news: you will have free access to this forever, as an MIP alumnus.
VMock: basically a resume optimization tool based on AI, which gives you instant scoring, benchmarking and detailed feedback on your CV, also considering your target goal.
Digital Innovation Observatories: MIP students can take up a free subscription or access restricted sections of the Observatory website. net is a multimedia and interactive platform enabling professional updates on Digital Innovation, with a wide variety of content and events designed by analysts and experts with unique expertise.
Free Subscription to the Financial Times: I don't think it's necessary to explain to you what the Financial Times is; let's just say that it's one of the world's leading global business publications.
MBA-Exchange: this is a website that helps MBA students and alumni research and identify the right career opportunities for them, while also working with employers to diversify their candidate pool and optimize their recruiting resources.
The power of networking
This is linked to the first point. Attending classes, events and also the International Weeks, allows you to easily build connections and friendships with people who can enrich you with different points of view, personal and work experiences, thoughts on careers, entrepreneurial ideas, etc.
Before starting, I didn't expect the level of willingness to "open up" from other students that I have indeed found. Everyone (some more, some less of course), is available to speak openly about their goals and personal experiences, to give opinions and advice and to ask you to do the same, showing genuine curiosity. This willingness definitely makes it easier to build up trust with your teammates.
The network that you will develop throughout these years will eventually help you in finding your dream job, maybe building your startup and more generally with your personal growth.
So, my second tip for future participants is to ask your peers as many questions as you can, to contribute with your experience and feedback and, lastly, to actively participate in networking events, both those organized by MIP and by the students themselves.
The importance of the course coordinator
You will realize how important it is to have the necessary information in time and to have it provided in a clear and concise way, especially when you have to deal with the tons of emails you receive from work, from MIP and on personal matters.
We have the good luck to have Francesca Mastroberardino as our course coordinator and I would say, especially during the International Week in Barcelona, that she helped us a lot in providing us with the preparatory material and the week's agenda. When chatting, she also gave us some advice on the best way to approach our MBA journey in general.
The course coordinator is, in fact, the reference point for any kind of doubt, question or issue regarding the organization and scheduling of the MBA program, the materials, exams, taxes or the documents you might need for any reason, so be fully aware of their existence and use their email address wisely.
About the author
Davide Ritorto

Davide Ritorto is an ambitious and inquisitive Management Engineer, currently working and learning at Lamborghini and at MIP, where he is studying for the International Part-Time MBA. He is focused on improving himself and putting his passions and skills to good use.

Davide enjoys exploring new things, is passionate about scuba diving, (of almost all kinds) sports, personal finance, vintage watches, food and intercultural travels
---
Tags:
Share
---