10 October 2019
Share
---
fashion Sustainability
A New Awareness promotes responsibility in fashion and fosters engagement for an inclusive fair change in the fashion industry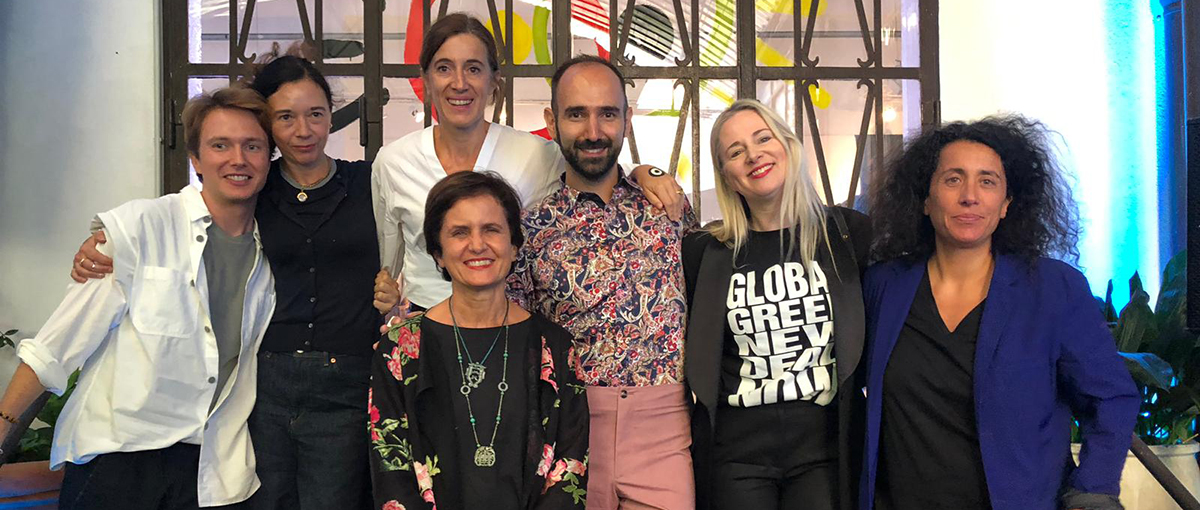 The first edition of A New Awareness was held at 10 Corso Como Tazzoli on the 18th – 20th of September 2019. Awareness Infinitum, Com.i.stra, Greenpeace Detox Campaign, Helen Kirkum, Duran Lantink, Manteco, Marini Industrie, Fashion Revolution, Bethany Williams, and Design Studio Wrad were exclusively featured to provide cutting edge solutions for a sustainable lifestyle. This first edition clearly illustrated how linear business models could be transformed through radical material and process innovation, circular design principles and multi-disciplinary collaborations.
On the 20th of September, A New Awareness hosted two panels to discuss the challenge of sustainability. The first talk explored how radical change can be made actionable in the context of fashion. With the participation of Sara Sozzani Maino (Deputy Editor in Chief of Vogue Italia, Head of Vogue Talents and International Brand Ambassador of Camera Nazionale della Moda Italiana), Marina Spadafora (Country Coordinator of Fashion Revolution Italia and the United Nations Ambassador) and Matteo Ward (Founder and CEO of Wrad Living) under the moderation of Hakan Karaosman (Researcher at Politecnico di Milano School of Management), it was concluded that innovation, commitment, leadership and multi-actor collaborations are the initiating factors to the beginning of a sustainable fashion world.
"Today we all need to think in a more responsible way for a better future. Big changes do not happen in one day, but we need to convert our way of consuming to make this happen. A New Awareness wants to bring consciousness to consumers" comments Sara Sozzani Maino. Creating systemic changes requires an inclusive and interdisciplinary dialogue. Therefore, designers, academia, brands, NGOs, governments and civil society must come together to be part of the change. "Humankind is finally awakening to the reality of climate emergency" says Marina Spadafora, and adds "A unique scenario will have designers, artists, activists, opinion leaders and policy makers meet to discuss how we can all join forces to create a viable transition towards a sustainable future". More than ever fashion now needs more innovative and engaging methods to communicate this new narrative for which transparency, truthfulness and reality appear to be the main ingredients. "Today the truth is the only key to set the tone for a responsible, inspiring and functional communication strategy" states Matteo Ward.
The second talk focused on how fashion's sustainability transition could be accelerated. Three strong fashion leaders, Orsola de Castro (Co-founder and Creative Director of Fashion Revolution), Chiara Morelli (Group Operations Sustainability Manager at Kering) and Clare Press (Sustainability Editor-at-large at Vogue Australia and the Presenter of the Wardrobe Crisis Podcast) explained if, why and how fashion could become a catalyst for a responsible change. "Change is truly coming, I am quite optimistic", states Clare Press. Even though the fashion industry has made progress in terms of environment, social sustainability is yet to be ensured throughout supply chains. Business priorities need to be merged with moral principles to spread social sustainability across upstream levels.
"We need to disinvest in growth and invest in social and environmental prosperity throughout the supply chain" addresses Orsola de Castro while pointing out "there is an elephant in the room and we cannot talk about the democratization of luxury in supply chains where democracy does not exist". Fashion supply chains are complex, fragmented and globally dispersed; hence, providing the supply chain partners with knowledge, tools, and methodologies are as important as setting sustainability goals at the corporate level. Collaborations and capacity development are fundamental actions to reduce fashion's footprint. "We translate our vision into action by directly working with our supply chain members to guide and support them to spread sustainability across the chain" highlights Chiara Morelli. Systemic transformations are required to change the way fashion business is coordinated; relatedly, "Practitioners, academics, consumers and policy makers need to act together" cites Hakan Karaosman.
It is also acknowledged that Generation Z and Generation Y will represent 45% of the global personal luxury goods market by 2025. The purchasing habits of young customers are shaped by intangible values such as diversity, equality and transparency. Thus, the fashion industry needs innovative and engaging ways to bring people into a responsible future. However, there is hope! Awareness is increasing and people are asking for transparency, ethical and environmental care.
---
Tags:
Share
---