3 November 2022
Share
---
digital transformation eMagazine Industry 4.0
How to cultivate future skills for advanced and sustainable manufacturing?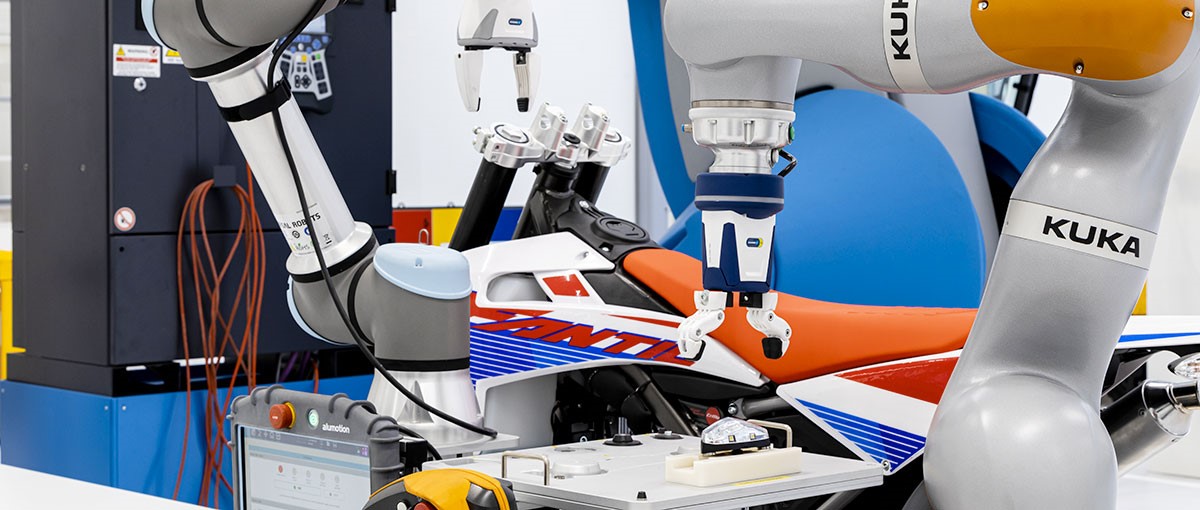 IoT, 3D printing, Virtual Reality, Augmented Reality and collaborative robots (cobots) are today present in many production sites and are quickly transforming the manufacturing industry. Despite this, working in a factory remains intrinsically a matter of people, whose skills should evolve at the same pace as the technological innovation.
Sergio Terzi, Professor of Industrial Technologies, School of Management Politecnico di Milano

The manufacturing industry – the classic factory – is a rapidly changing environment. Markets are increasingly more competitive and complex, demanding tighter turnarounds, more variety, more innovation. Many consumers have also – finally – become mindful of the new consumption styles, more sustainable and less impactful on the environment and society. Factories have to find a way to meet these demands.  Or rather, factory managers (fortunately machines alone do nothing yet) must implement changes, creating agile, efficient, modern, clean, sustainable and safe work spaces and environments.
Moreover, the continuous pressure of technological innovation, especially digital, presses at the factory doors – as it does everywhere. Computers, tablets and smartphones are, today, everyday objects, even in production departments, for which we must find a way to use them intelligently and efficiently as well as safely and reliably.
Therefore, factories must change. Or rather, factories are already changing. It is no coincidence that for more than a decade there has been much talk – not only by professionals, but also in the media and in politics – of a new industrial revolution (3,4,5…), of a manufacturing renaissance, of boosting industrial investments, etc. And the revolution is actually happening, one step at a time, one project at a time, one company at a time.
Even close to us, in productive Lombardy, many factories are undergoing transformation. A series of public incentives (the Industria 4.0, Impresa 4.0 and Transizione 4.0 National Plans and the most recent, the NRRP) as well as a large availability of technological solutions have certainly generated a big push towards modernisation.  IoT, 3D printing, Virtual Reality, Augmented Reality, cobots (who work side by side with humans, not instead of them) are today present in many production sites close to us, into which our graduates enter profitably.  And the same thing is also happening further away, in all national and international territories which have an industrial vocation.  The factory is really changing, and fast too!
However, a factory is not only made of machines, robots and parts to be produced, but also, and above all, of people. Workers, technicians, engineers, department, line and plant managers etc. A factory is such precisely because of its "industrial" organisation, in which different skills come together effectively to produce goods and services to bring to market. The manufacturing industry – from 'manu facere', made by hand – is intrinsically a matter of people, of their skills and of their intelligence.  Not everyone is born with all of the necessary skills to navigate complex environments. In fact, the majority of us have to gain experience and knowledge to be able to engage with sophisticated organisations. Even 'digital' natives are not born with chips, but learn digital technology from their own daily experiences.  Therefore, skills are to be acquired. The modern factory requires skills not traditionally considered relevant to industrial engineers and technicians' normal training (from negotiating skills to computer technology). These skills must therefore be provided to both new and 'old' generations.  The modern technical university – such as ours – is not exempt from this requirement and must inevitably become a more 'multidisciplinary' environment than that which we have been accustomed to in the past.
The current situation calls for 'fresh' technical skills which must be constantly maintained (computer science, to name one, evolves quickly). Moreover, it often calls for handling multivariate contexts, in which one should have a good ability to see connections between different aspects (e.g., technology, processes, business, needs, etc.) as well as a certain predisposition to continuous adjustment. It also requires a certain pragmatism as well as an aptitude for 'getting your hands dirty' (experimenting, modelling, simulating, prototyping, programming, etc.).  To provide these skills the methods and means of education themselves must change.
For some time now our School has been rising to the challenge of providing new skills for a new world. There are many examples in our courses and programmes, but here we think it is interesting to delineate the experience of our  Teaching Factory Industry 4.0, which has been present in our School since 2017. It is a physical space, in front of our Department of Management, Economics and Industrial Engineering, where we have installed a small digital and connected factory.  There is a semi-automated assembly line, two cobots, two independent workstations, an AGV, different devices for monitoring production and a complete 3D simulator (digital twin).
The Teaching Factory was designed to bring training and application together in the same space, as well as to test new operating models (plant simulation). It is an environment populated by students and researchers and is also used for key courses on production systems in the first year of the degree programme. In 2018, we dedicated the Teaching Factory to our late mentor, prof. Marco Garetti, who was one of the founders of our department's industrial engineering group and a passionate teacher.
Thanks to the Teaching Factory Industry 4.0 we are able to help our students with pragmatic technology learning, in an environment which closely simulates the reality of modern industrial companies.
The experience gained from the Teaching Factory Industry 4.0 was also very useful when our university implemented the larger project Made – Competence Center Industria 4.0, which is located on the Bovisa Campus in Milan, not far from our School.
As a department, we have strongly contributed to this broader project, which is proving to be a useful method for disseminating the skills required by the new industrial evolution, not just amongst our students, but also in companies.
---
Tags:
Share
---