8 June 2020
Share
---
#certification #digitallearning #flexEMBA #innovationmanagement
Excellence in digital education: the School of Management of Politecnico di Milano is the only Italian recipient of the EOCCS certification for Executive MBAs.
The certification granted by EFMD (European Foundation for Management Development) rewards high-quality MBA programmes in 22 universities across the world.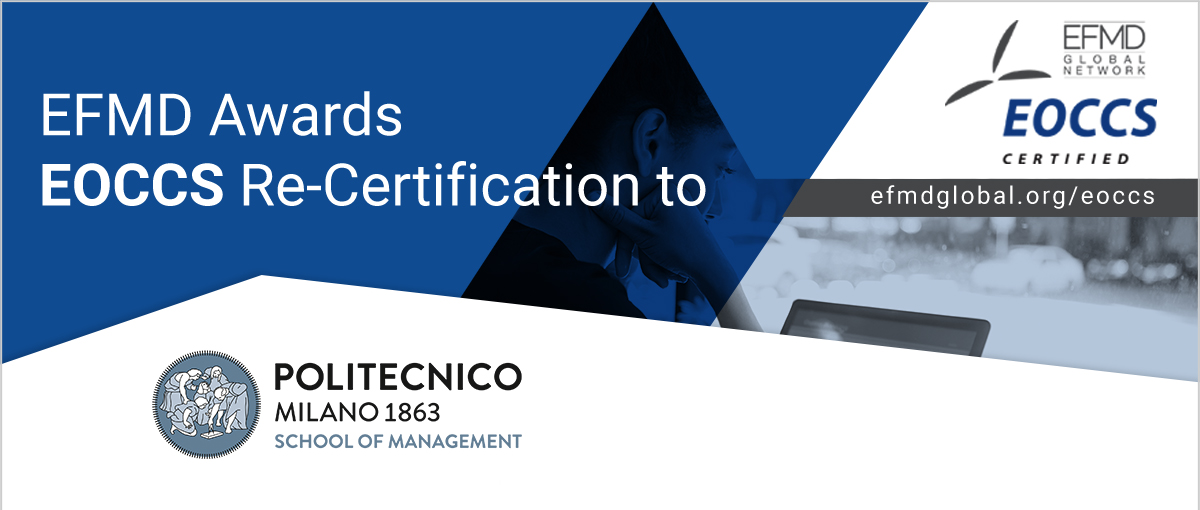 The School of Management of Politecnico di Milano is the first Italian business school to receive the EOCCS certification for digital learning courses taught within its Executive MBA programmes. EOCCS (EFMD Online Course Certification System) is a quality benchmark system developed to assess online courses, devised by EFMD (European Foundation for Management Development), the most highly-regarded institute in Europe within the field of managerial education and development.
In 2017, only 35 courses in Europe had received this coveted accreditation, held by 11 universities. Today, EOCCS has endorsed a total of 22 schools globally.
The EOCCS certification lasts for three years, and has been awarded to two courses held at MIP Politecnico di Milano Graduate School of Business: Innovation Management, taught in English within MIP's International Flex EMBA, and the course on Supply Chain Management and Purchasing, taught in Italian within the Flex EMBA programme. This is a significant reaffirmation, as both courses had been granted EOCCS certification in December 2017. Both courses are taught in full digital mode.
The EOCCS certification is a further stamp of quality within our programme of online courses, which has been extended and strengthened due to the COVID-19 pandemic. The EFMD brand sets a benchmark for the most outstanding online courses, those that are able to combine the greatest flexibility in studying, methodological rigour, high standards of teaching and a quality of interpersonal relationships that is comparable to in-presence teaching.
Vittorio Chiesa and Federico Frattini, President and Dean of MIP Politecnico di Milano: "We are proud of this renewal to our EOCCS certification, following on from that received in 2017. The endorsement rewards the hard work carried out in our School since 2013 to offer a suite of increasingly flexible courses that respond ever closely to the needs of each student.
Belonging to a select group of schools is particularly gratifying in this period, which sets out the extraordinary importance of good online teaching. The digitisation process has shown that learning opportunities can be multiplied, overcoming barriers and boundaries. Digital teaching is taking its rightful place as a tool for inclusiveness in teaching, now and in the future."
---
Tags:
Share
---