30 June 2021
Share
---
#MIPexperience Interntional Full Time MBA
Experiential Gym
| Author: Rakshit Behel, International full-time MBA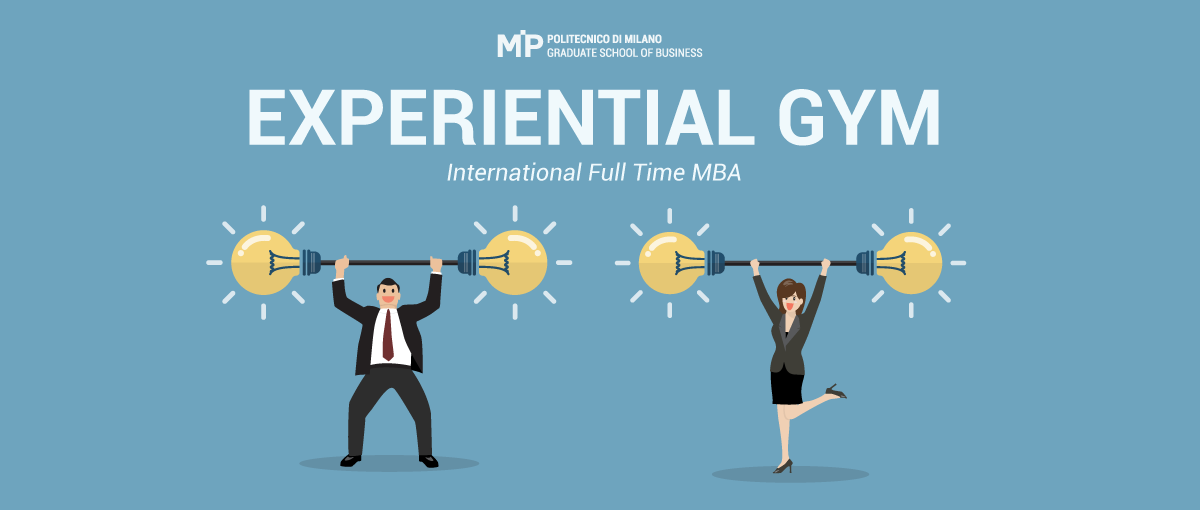 Now that the International MBA 2020-21 intake of students at MIP Politecnico di Milano has entered the last quarter of its academic schedule, there have been some unique aspects of this journey that stand out, like the Experiential Gym. This is a value-driven initiative, designed to give MBA candidates the chance to work and interact with corporates, either as consultants or by attending useful company presentations, and gain vital practical experience alongside their academic cycle.
As part of our MBA, regular sessions and workshops have been held to help us develop all the skills necessary to be successful professionals in the corporate environment, the most important of these being the company presentations. At these events, C-suite executives give important insights into their work-culture as well as making important announcements, such as those regarding their internship programs or open vacancies. These presentations have been a chance for us to learn from the industry professionals themselves about successfully making presentations and effective communication.
A key aspect of the Experiential Gym was a 4-month-long project with an Italian company. The MBA candidates worked in a consultant's capacity on strategic projects and helped their respective employers achieve their objectives. As a foreign student, the experience was crucial to me, as it was officially the first time I was directly interacting with an Italian corporate, making it a truly new and unique experience. The project was also an opportunity for us to apply the learnings of the classroom in an actual corporate setting and test our assumptions and hypotheses for ourselves. The project culminated in an official presentation of the work and results for the top management of the company as well as the directors of our program. Getting valuable feedback from such experienced professionals added a practical layer to our academic learnings.
In addition to this, working in teams of 4-5 with our colleagues from the group also gave us an experience of working in a global culture. As our batch is pretty diverse, it was interesting for individuals with varied backgrounds and skill sets to come together over common objectives and strive to deliver value. For some of us, the pleasant experience led to us becoming closer friends with our teammates, discovering their strengths and weaknesses as team-players and assessing ourselves in the context of a totally new working environment.
The Experiential Gym was conceptualized to help MBA candidates gain industry exposure as well as hone important career-building skills with practical knowledge about networking, resume-presentation, interview skills, etc. It has added immense value to the overall experience of pursuing an International MBA at the Politecnico di Milano, with practice-led initiatives giving us the edge as business managers.
About the author
Rakshit Behel

A results-oriented marketing communications professional helping brands achieve objectives with integrated marketing campaigns built around branded content. From creatively developing and implementing digital marketing and content strategies to measuring performance with analytics and providing insights into useful data, aligned to brands' business goals; experience of working with clients from different industries: Hospitality, IT, Fintech, Media and Healthcare.
---
Tags:
Share
---