27 June 2019
Share
---
Ranking
MIP Politecnico di Milano's Flex EMBA 7th in the world and among the top 4 in Europe in the Distance Online MBA category
QS Distance Online MBA 2019 Rankings published today the School's executive programme up by 13 places in one year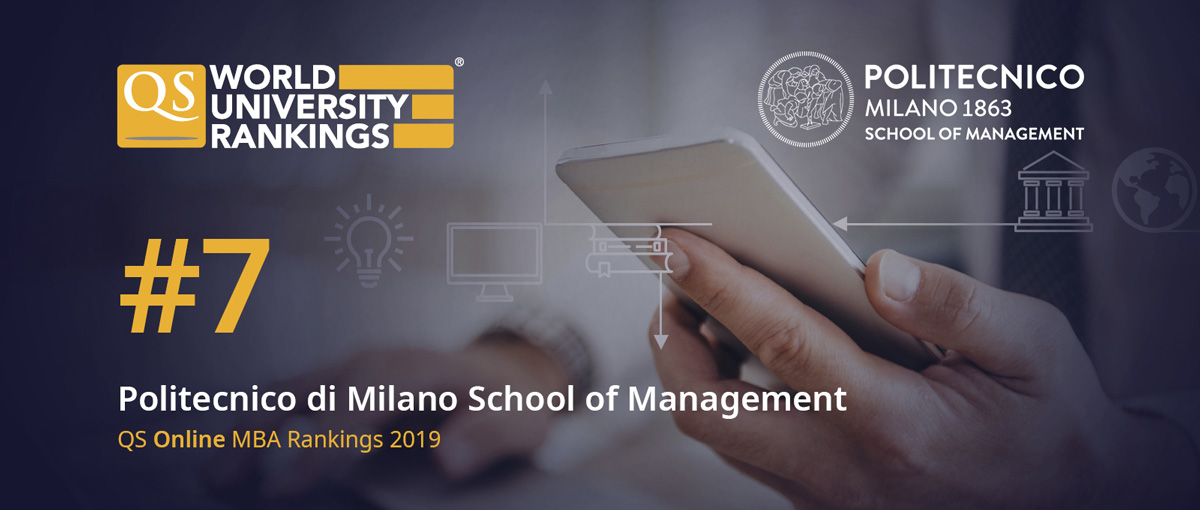 "Another great recognition confirming the excellence of the School of Management for its work in developing digital solutions that support education" (Andrea Sianesi and Federico Frattini).
The future is FLEXA, our continuous learning platform geared to artificial intelligence
A world top ten place in distance learning Executive MBAs for Flex EMBA at MIP Politecnico di Milano Graduate School of Business. The only Italian programme listed has climbed 13 places in the global ranking and is now seventh in the world, according to the newly issued QS Distance/Online MBA 2019 Rankings, which measure performance for the best distance learning MBAs.
The Business School of Politecnico di Milano has always held an excellent position in rankings that consider – as QS does – the participants' experience throughout the course and the quality of faculty. And in this ranking, our FLEX EMBA is placed first in the world for "Class Experience" and second for "Faculty and Teaching"
Flex EMBA is a blended teaching course that uses an ad hoc platform developed in partnership with Microsoft. In 2016, AMBA (Association of MBAs) placed it among the most innovative MBAs in the world. Since 2017, the course holds EOOCS certification from EFMD (European Foundation for Management Development) the body certifying online programme quality, the first executive programme in Italy to receive this accreditation and one of the first in absolute terms.
"We are proud of this excellent result", say Andrea Sianesi and Federico Frattini, MIP's Dean and Director of MBA and Executive MBA Programmes, respectively. "Because of this and our growing numbers (with nearly 400 students taking the Italian or the International course since 2014), Flex EMBA is the School's most successful programme of the past ten years. Our objective was achieved through our efforts to continuously improve the programme and to extend the international dimension of its curriculum. Once again, we see the validity of our online education being rewarded. From 2013, MIP Politecnico di Milano has invested heavily on applying digital technologies to education and providing programmes that offer superb usability and accessibility, while always ensuring high quality teaching and a personalised learning experience.
The many recognitions rewarding the value of our Flex EMBA only confirm the excellence of MIP in developing digital solutions to support education. Five years ago, we were the first in Italy to believe in a digital MBA for executives, so much so that two years later we added an international programme, i-Flex. Today, we have placed another piece in the jigsaw. From December 2018, MIP students can access FLEXA services on this innovative platform developed in partnership with Microsoft. The system uses artificial intelligence to offer an array of services such as skill assessment, personalised and continuous learning and a revolutionary e-tutor to help students fill in any gaps and achieve their professional targets".
---
Tags:
Share
---