9 April 2021
Share
---
leave your mark no profit
Leave Your Mark: MIP and non-profit organizations join forces to build a better future for all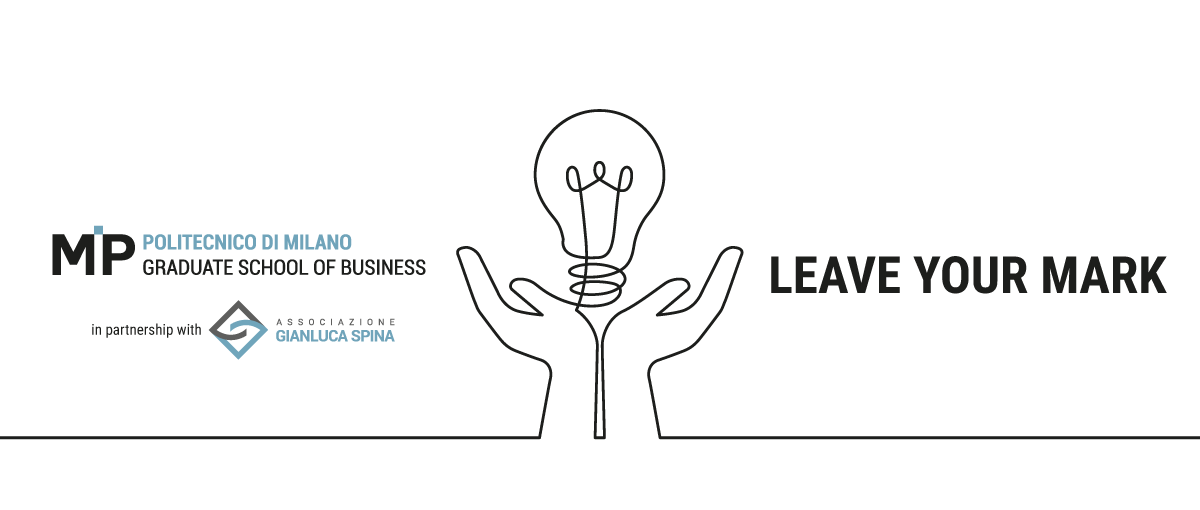 An initiative conceived to allow managers, professionals and talented young people who study or have studied at MIP to make available their expertise – pro bono – to non-profit institutions that play a key role in building a more inclusive society and a better future for everyone. An important opportunity for personal and professional growth, but also to give back to the community a part of what was received during one's education
Commit your resources and energy to build a better and more inclusive society, by participating in a volunteer programme to help non-profit organizations. It is the purpose of the Leave Your Mark initiative, promoted by MIP Politecnico di Milano in partnership with the Gianluca Spina Association. «I believe that business schools must increasingly promote a profound process of change and train managers who are aware how their decisions can – and must – contribute to improving the world in which we live and in which our children will live, and how this is not incompatible with the pursuit of maximizing profits for shareholders», explains Dean Federico Frattini. «This initiative represents the ideal opportunity to test the abilities and skills acquired by our students in the "real world", while offering important help to the non-profit organizations involved».
An important opportunity for growth
This year we chose four non-profit organizations: UNICEF Italia, Cidiesse (Social Solidarity Cooperative) the Daniele Crespi High School and Open Ethics. The project aims to help these four non-profit organizations to improve their processes to increase their efficiency, effectiveness and impact in the environment in which they operate. «Issues that have always been close to the heart of our association, created with the goal of promoting and supporting training and scientific research initiatives involving management, with particular attention to social impact», explains Raffaella Cagliano, president of the Gianluca Spina Association. «We have always favoured educational and professional aspects, and we believe it is important to contribute to managerial education. Leave Your Mark is a project that instantly convinced us, and so we decided to support it. Volunteering is an important opportunity for personal and professional growth, and fully represents the aspiration that every manager contributes to creating a better world for all».
Four challenges, four skill sets
An enthusiasm also found among students and alumni, who signed up in large numbers. With over 100 candidates, about twenty were chosen, which were then divided into four teams based on individual skills. Indeed, the goal was to create working groups with complementary skills, able to truly make the difference for institutions that were part of the project.
Professors at the school will coordinate the teams.  For example, Sergio Terzi, Associate Dean for Students Engagement and Supporting Services, will follow the team working with l'UNICEF Italia: the goal is to support UNICEF in developing an engagement and cooperation strategy with Italian companies involved with B2B. The team must be able to identify the most important stakeholders, to analyse and segment the B2B market and to draft cooperation models.
Those who will offer their contribution to Crespi High School, under the supervision of Tommaso Agasisti, Associate Dean for Internationalization Quality and Services, must develop a digitalization model that manages the flow of documentation, while also adopting an ecologically sustainable approach.  An ideal challenge for those who know how to analyse organizational processes, especially in a school setting, and how to manage a digitalization process.
Davide Chiaroni, Associate Dean for Executive Education, instead, will be the tutor for the third project.  Cidiesse has already drawn up an ambitious marketing plan to expand its activity of giving disadvantaged youth access to the labour market, but needs careful budget planning, and the creation of a specific tool. In this case, the required skills range from experience in manufacturing to management, accounting and ERP (enterprise resource planning).
Lastly, Daniel Trabucchi, Assistant Professor for Innovation Management, will lead the team that will help Open Ethics create a culture of transparency in Italy for the digital products that we use every day. A perfect project for those who want to test their knowledge, including that of privacy and personal data management, behavioural economics, Artificial Intelligence, marketing and community management.
Volunteering that allows you to grow  
Putting their time, experience, creativity and skills to the service of Leave Your Mark, students and alumni can contribute to building a better future and to concretely help the selected organizations. But not only. This experience will allow them to acquire new skills, to expand their network and adopt a different perspective, compared to that of a traditional work environment.
A big opportunity for growth that has generated a lot of enthusiasm in the community.  For this reason, and for the importance the school places on these issues, as is also shown in the mission of MIP– Leave Your Mark is a project destined to last over time. The 2021 edition was just launched, but we are already thinking about next year!
---
Tags:
Share
---