14 March 2022
Share
---
Ranking
Online MBA Rankings 2022: MIP Politecnico di Milano among the best in the world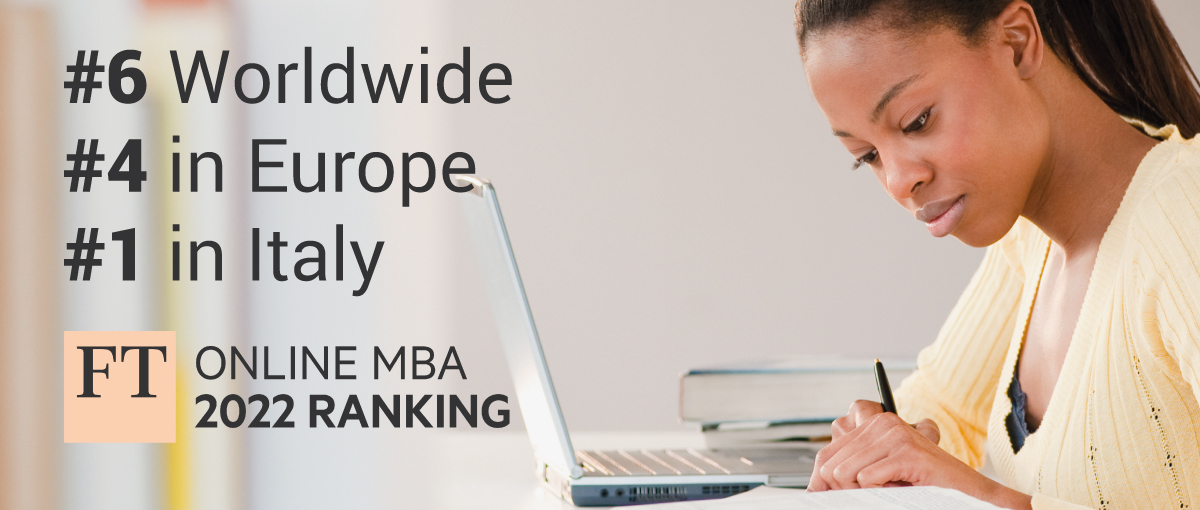 The Financial Times and QS Quacquarelli Symonds place the International Flex MBA at Politecnico di Milano's School of Management among the world's best once more this year, ranking it 6th and 11th, respectively.
MIP Politecnico di Milano, the Graduate School of Business at Politecnico di Milano's School of Management, has received two major international recognitions, underlining the quality of its digital learning education. Two of the most authoritative certifying bodies have underscored the excellence of the School's International Flex MBA on the international stage.
According to the FT Online MBA Ranking 2022, MIP's online MBA has climbed two places this year, and is now ranked 6th in the world, one of a select group of outstanding MBA programmes taught in distance learning. The highly respected British newspaper now ranks MIP up in 4th place in Europe, confirming its position as the only Italian business school to be included in this exclusive classification.
And this is not the only acknowledgement awarded to MIP's online MBA. The QS (Quacquarelli Symonds) Online MBA Ranking 2022 has also certified its value, placing the MBA at 11th place in the world.
Vittorio Chiesa and Federico Frattini, the President and the Dean of MIP, stated: "We are delighted and immensely proud of the excellent placings achieved this year by one of our flagship MBAs. Ever since we launched the first edition of our Flex MBA in digital learning, back in 2014, we have been hard at work to improve the quality of our distance teaching. It needs experience and knowledge in educational design to come up with a good online programme and implement it satisfactorily. It also needs teachers ready to work within a flexible and inclusive approach to teaching. Technology is a great enabler for rethinking the way we all teach and learn."
MIP's International MBA is based on one of the most advanced digital learning platforms in the world, developed on Microsoft technology, and was the first distance learning programme to be launched in Italy, at a time when there still a big question mark over the model of digital learning.
Returning to the subject of the FT rankings, from an analysis of the individual parameters used to determine scores, a standout factor for MIP is its continuous commitment to sustainability, strengthening the School's B Corp identity and its status as the first and only business school in Europe to bear this certification. Looking at the environmental, social and governance (ESG) rank (which takes in how many teaching hours in core courses are spent on ethical, social and environmental issues), MIP's MBA is placed 3rd in the world. The results for career progress are also highly significant, increasingly indicating that MIP is the gold standard for continuous learning offered to top company managers.
Access the Financial Times Online MBA 2022 here
Access the QS ONLINE MBA RANKING 2002 here
---
Tags:
Share
---