28 August 2019
Share
---
IMLUX Luxury
Prada Group gives its support to MIP Politecnico di Milano's International Master in Luxury Management
Prada Group and Taittinger Champagne alongside prestigious IMLux Master, world leader in training luxury sector professionals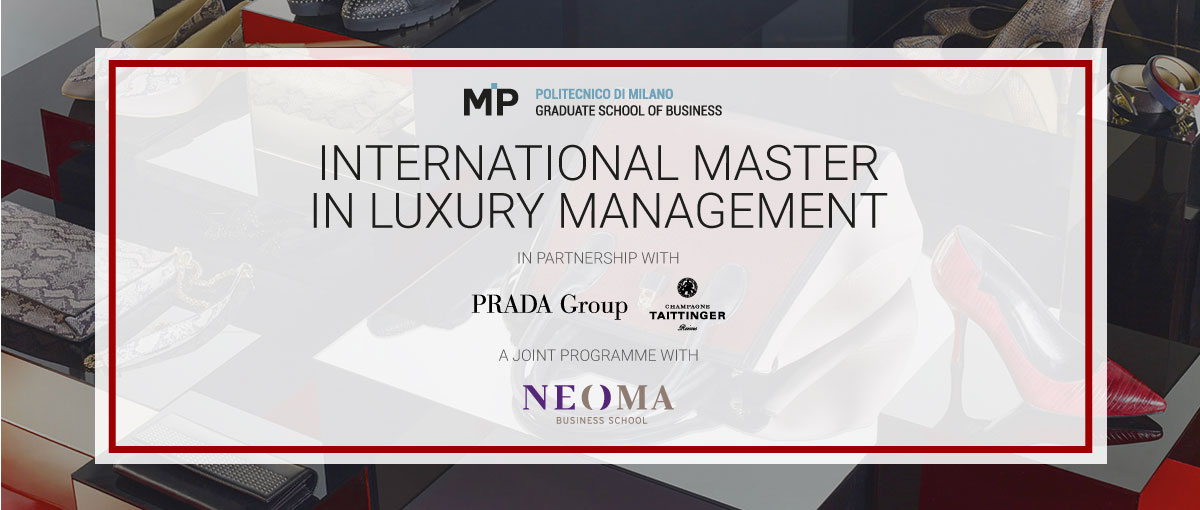 Held in collaboration with France's NEOMA Business School, this programme awards a double qualification. 7th edition about to start, enrolment to the 8th opening in October
EdUniversal 2018 ranking places the International Master in Luxury Management (IMLux) in first place globally among all luxury management Masters (the two MBAs listed above it have a different focus). International luxury sector leader Prada Group is sponsoring the programme from this year, together with Taittinger Champagne.
This course is an Italo‐French collaboration between two of the world's major countries for top‐of‐the‐range products. Participants will gain a double degree, a Master's degree (1st level) from Politecnico di Milano and a "Master in Science from NEOMA Business School.
IMLux begins on 9th September 2019, and students can register to the 2020 edition from this October. Taught jointly by MIP Politecnico di Milano Graduate School of Business and NEOMA Business School, in collaboration with Prada Group and Taittinger Champagne, this programme is designed for people keen to learn the skills necessary to hold key positions in luxury sector companies, which, by definition, demand very specific abilities and creativity.
The 12‐month full‐time programme and concluding project, all taught in English, is split into two, with half the course held in Rheims ‐ city of champagne ‐ and half in Milan ‐ a fashion capital ‐ within a very international environment, both for its student body (representing about 20 nationalities every year) and for its faculty and partner companies. This is a great opportunity for students to make contact with leaders in the worlds of fashion, cosmetics, furnishing, food and drink, hotels and automotive industry.
Stefano Rastrelli, HR Director for Prada Group: "We are fully aware of the great value of education in today's landscape, and are delighted to announce that Prada Group is enthusiastically joining this project. We welcome the multicultural background of students from many countries and their wide range of multidisciplinary skills. It is a pleasure to support this programme with its geographic diversity and different inputs from the academic and business worlds".
"This Master is unique in that it works so closely with companies", added Fabrizio Maria Pini, Course Director. "We do not restrict exposure to in‐class presentations and testimonials given by entrepreneurs and managers, or to proposing on‐site company visits, however important these are for a full immersion into the world of luxury. A key aspect is that companies are actively involved in the course and its material, students take on a real project and help to resolve problems and face challenges where a solution is really needed at that point in time". Fabrizio Maria Pini then continued, "Another factor that makes this programme so unique is its integrated approach to creating value in the luxury sector. IMLux provides a detailed and extensive overview of the entire value creation chain, from coming up with an idea to the manufacturing processes, from supply chain to retail, and from online to offline communication".
---
Tags:
Share
---