15 December 2021
Share
---
Artificial Intelligence Industry 4.0 Switch2Product
Project HAwK wins 2021 Switch2Product | Innovation Challenge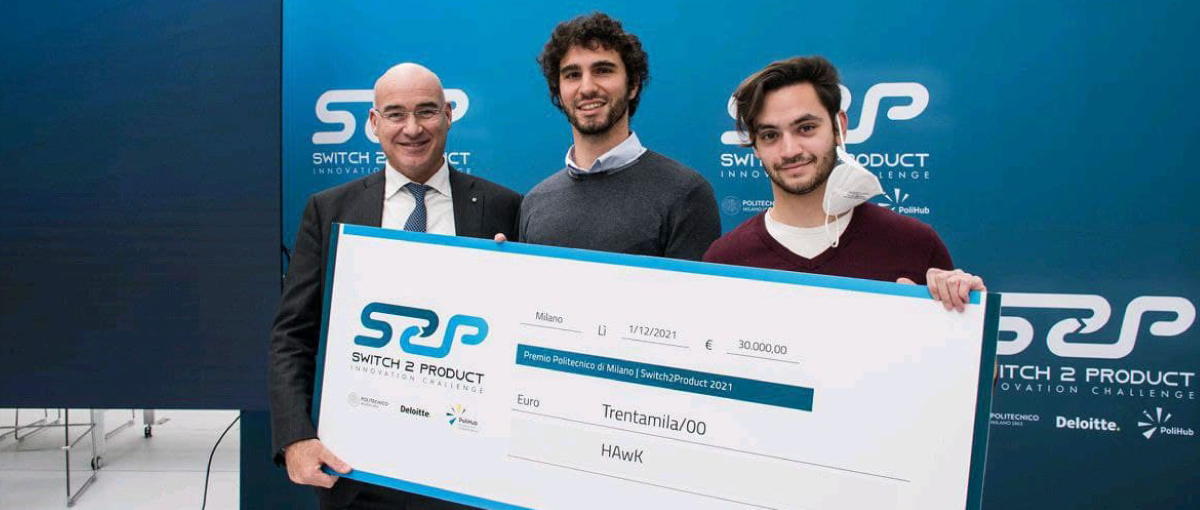 Project HAwK proposed by Domenico Nucera (PhD Candidate, Department of Management, Economics and Industrial Engineering), Luca Bertulessi (Researcher, Department of Electronics, Information and Bioengineering) and Tommaso Maioli (Alumnus of Politecnico di Milano) has won the Switch2Product Grant in the category "Industry Transformation", ranking among the top 26 teams on a total of 250 projects presented at the S2P program, organized by PoliHub, the Technology Transfer Office of Politecnico di Milano and Deloitte's Officine Innovazione.
HAwK is a hardware accelerator for the analysis of data coming from high data rate sensors, with the aim of reducing costs and energy consumption, enabling Artificial Intelligence on edge.
The 30.000 euros prize will serve the purpose of the technological development of the project, which is going to be realized with the scientific advisory of DIG's Professors Marco Macchi and Luca Fumagalli and DEIB's Professor Salvatore Levantino.
Domenico Nucera has enrolled in the 37° PhD cycle in Management Engineering and has been working for 2 years at the Industry 4.0 Lab at DIG. Luca Bertulessi is a researcher at ARPLab at DEIB.
HAwK will be able to promote potential cross-disciplinary activities between the above mentioned DIG and DEIB laboratories.
The awards ceremony was held at MADE Competence Center Industry 4.0, in the Bovisa campus of Politecnico di Milano.
For further information, please click here.
---
Tags:
Share
---