28 September 2020
Share
---
Ranking
QS 2021 Business Masters Rankings: Politecnico di Milano's School of Management among the best Business Schools in the world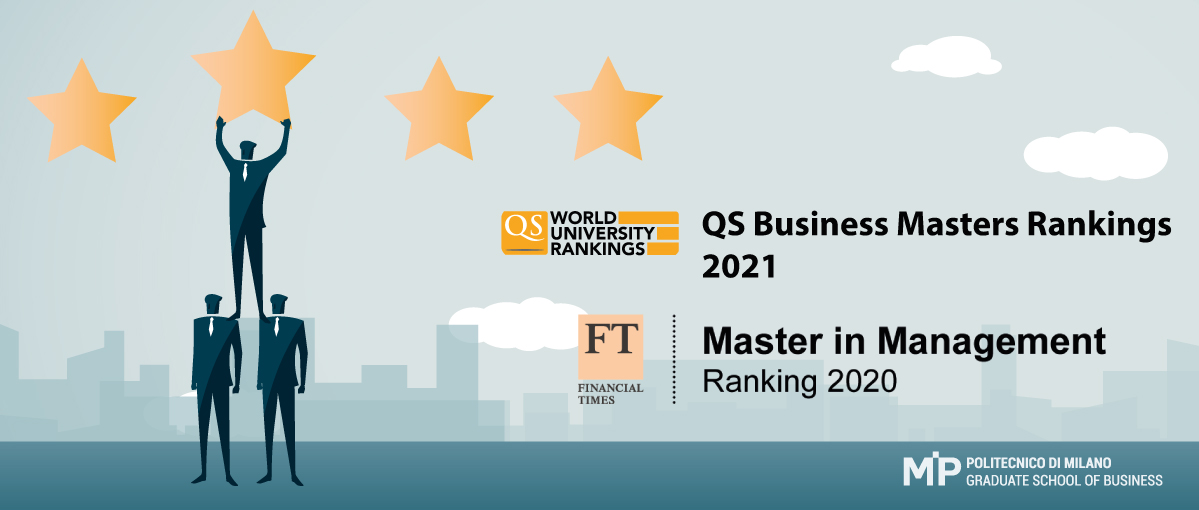 The courses held by MIP, the Graduate School of Business belonging to the School of Management, ranked highly in the international classification for the best MBAs and specialist masters, in 7th place for its Master in Supply Chain Management. A further recognition in the Financial Times' Masters in Management Ranking 2020: the School of Management 3rd placed Business School in Europe among technical universities.
MIP Politecnico di Milano Graduate School of Business is one of the best Business Schools in the world, according to QS 2021 Business Masters Rankings, the classification reserved for the world's best MBAs and specialist business master's degrees, being placed 7th for its Master in Supply Chain Management. Among the elements that have contributed to this position in the upper section of the rankings are its focus on diversity, the employability of its students and the return on investment.
In 2021, the QS Business Masters Rankings evaluated the quality of teaching for 258 course at 158 academic institutions in 40 countries across the world. As well as class and faculty diversity, employability and return on investment, the other indicators examined are thought leadership and entrepreneurship and alumni outcomes. MIP Politecnico di Milano confirms its place in the upper echelons of the rankings, as it did in 2020.
Looking at the QS international classification of the individual courses offered by the various business schools, the School of Management is listed for its Master in Management (at 36th place) and Master in Finance (at 68th place).
In the words of Vittorio Chiesa and Federico Frattini, President and Dean of MIP Politecnico di Milano, respectively: "We are proud to receive these superb acknowledgements only days after reopening our campus. We will continue in our efforts of further improving the quality of our teaching, which will always retain its defining elements, such as our care for and focus on diversity".
The School of Management received another prestigious accolade from the Financial Times, confirming its place in the FT Masters in Management 2020 Ranking. The School is placed 3rd in Europe among technical universities with a Business Schools or a Business Management Department. Its place is reconfirmed once again this year, with a smaller field of 90 outstanding management schools being included in the FT's 2020 MiM Ranking, instead of last years' 100.
Alessandro Perego, the School of Management's Director, and Stefano Ronchi, President of the degree course in Management Engineering at Politecnico di Milano: "With this recognition, we confirm our place as only one of a few Masters in Management in the world that can combine management, economics and technical-engineering skills into a single MiM. This has allowed us to train managers capable of guiding innovation, increasingly driven by technology, with a mindset geared towards problem-solving".
Click here to see the full QS 2021 Business Masters Rankings
Click here to see the full FT Masters in Management 2020 Ranking
---
Tags:
Share
---