9 September 2020
Share
---
#MIPexperience International Part Time MBA project work
The Project Work experience, an opportunity to bring your ideas to life
| Author: Andrea De Donatis, International Part-Time MBA student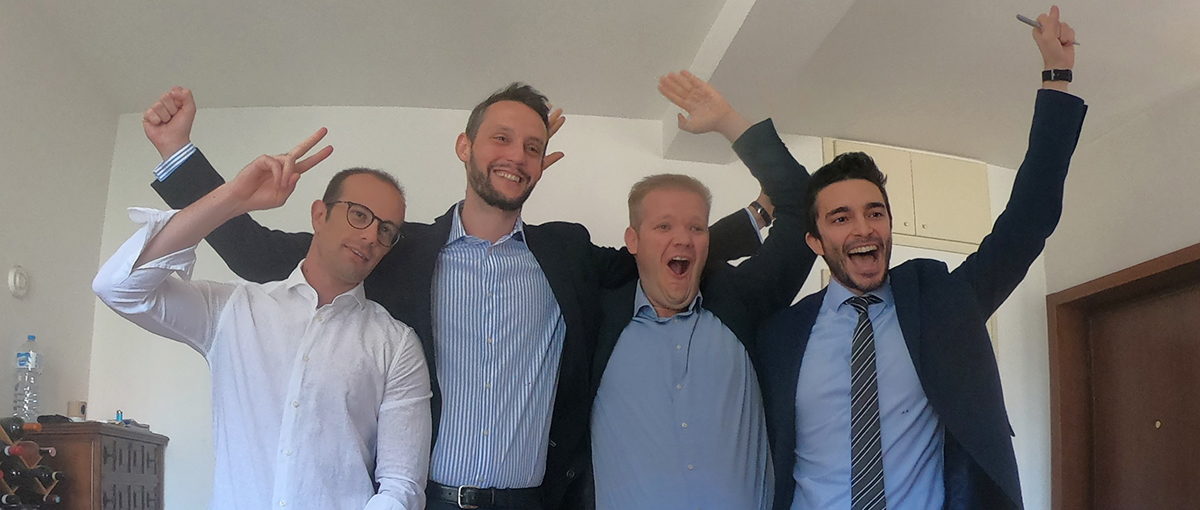 An International Part-time MBA at the MIP Politecnico di Milano School of Management always ends with the discussion of a group Project Work. During this final step, students have the possibility to put into practice what they have learnt during the two years in a consultancy project in their area of interest.
For this occasion, we had the possibility to join up with three colleagues and implement a project in our own company or develop a new business idea with the support of the MIP faculty.
I joined forces with Luca Randazzo, Alessandro Artuso and Alessandro Brunitti in a heterogeneous team in terms of knowledge and competences in the fields of law, engineering, marketing and information technology. We decided to develop our own business idea, willing to venture into a sector different from the one in which we work daily and, for the first time, to be responsible for an owned business, feeling like ambitious entrepreneurs and no longer just employees.
I met my Project Work colleagues for the first time during the MBA. We got to know each other during the courses and became good friends very soon. During the two full weeks abroad at leading European business schools offered by the Part-Time MBA program, we strengthened our friendship and we discovered that we had one common passion: traveling.
We first decided to extend the second of the two weeks abroad by taking the opportunity to explore the city of Munich and then we also organized another trip together to celebrate our graduation.
On these two occasions and in the context of the lockdown caused by the Covid-19 emergency, the idea for ​​our project was born: an app that simplifies travel planning and also brings tourists and tour guides closer thanks to remote tours, live or on demand. An app that allows guides to work remotely and that offers tourists multiple content solutions according to their individual needs. In defining this idea, talking about our past travel experiences and sharing personal stories, we also got closer to each other. Furthermore, we were able to put into practice all the main lessons of the course from Financial Accounting to Strategy and Marketing (to name a few) by applying them to the various project phases and defining an accurate business plan.
In addition to the opportunity to access the PoliHub – Politecnico di Milano's in-house start-up incubator – MIP has assigned Filippo Renga to us as our tutor, expert in Management Economics, counting multiple personal experiences in different start-ups, also in the tourism sector. Filippo has been able to give us not only technical advice on how to set up a start-up but also food for thought. He often made our sense of security falter by testing our motivation to go beyond the idea of a project, with the simple goal of graduation, but rather, to take the path that would actually bring it into being. He also made us face up to the reality of the entrepreneur's lifestyle, when you are often alone, fighting against numerous failures by pursuing your own ideas, very distant from that of an employee, both from a practical and an emotional point of view.
And now that we have just graduated, ambitious to carry on with our project, the real test and the most complex part will come: the implementation. But we are ready to get involved, to take our responsibilities and face the risks focused on the next goal, the first public release.
About the author
Andrea De Donatis

I am Andrea De Donatis, a student of the international part-time MBA at MIP Politecnico di Milano. I Graduated in energy engineering and I am currently working in technical sales for a leading multinational electronics company based in Milan.
I am very passionate about technology, IT and digital marketing. I strongly believe that disruptive innovation is vital to create new value.
---
Tags:
Share
---