22 March 2021
Share
---
Financial Times Ranking International Flex MBA Ranking
FINANCIAL TIMES: MIP POLITECNICO DI MILANO'S INTERNATIONAL FLEX MBA AMONG THE BEST 10 ONLINE MASTERS GLOBALLY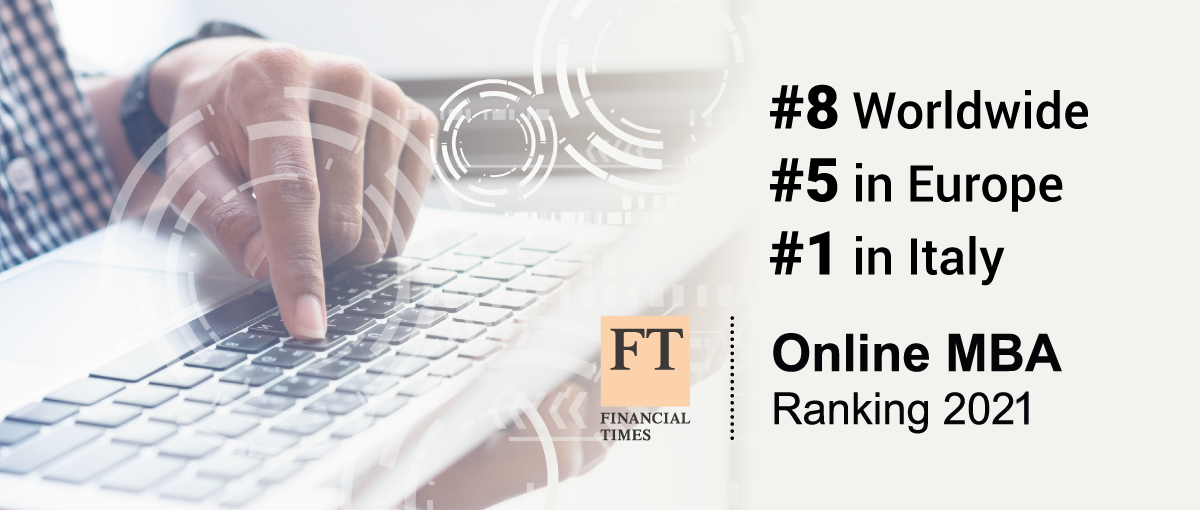 Flex MBA the only Italian programme in the ranking: up one place on last year, now 8th in the world and in Europe's top 5
MIP Politecnico di Milano reconfirms its place among the best business schools in the world for online MBAs. MIP is the Graduate School of Business belonging to the School of Management at Politecnico di Milano. According to the Financial Times Online MBA Ranking 2021, published today, MIP's International Flex MBA is 8th in world for distance learning Masters in Business Administration, one place better than last year. In the ranking for European business schools, MIP is in 5th place and is still the only Italian school in the ranking compiled every year by the British newspaper.
"Our higher education offer holds its place among the most competitive in the world", said Vittorio Chiesa, President of MIP. "Every manager, business person and professional knows that is it vitally important to continue developing their capabilities and expertise, and strengthen leadership skills that are essential to guide companies, from SMEs to large multinationals, in a dynamic and rapidly changing world. MIP is now an international reference point for its role in supporting leaders in this challenge".
MIP's International Flex MBA was launched in 2016, and is taught via an innovative platform developed in partnership with Microsoft. It is the English version of our Flex MBA, the first MBA in Italy to have embraced smart learning when it debuted in 2014 within MIP's programme portfolio. In eight years, over 550 students have taken one of these two MBAs, with enrolments up by 35% in 2020 alone.
Looking at the FT ranking and the parameters used, the International Flex MBA scored well in all "career progress" indices (progression in the alumni's level of seniority and the size of company they now work for versus three years ago on graduation), in gender balance on the School's Board and for the number of international students and faculty.
"We are very proud to have received this acknowledgement from the Financial Times, as the only business school in Italy included in the ranking", added Federico Frattini, MIP Dean. "This improvement in our global position confirms the quality of our distance learning offer. The health emergency inevitably also had an impact on the way we 'do' higher education, and accelerated a process of innovation that we were already expecting as the natural progression in executive education. The rise in number of people studying for one of these MBAs in such an unusual year as 2020 indicates that our decision to introduce smart learning as the first in Italy and one of the earliest in Europe was a key move that allowed us to intercept the growing demand for flexibility, something that our business community has been expressing for some time".
In the Financial Times' top ten ranking, MIP is ahead of the Robert H. Smith School of Business at the University of Maryland (USA) and the Australian Graduate School of Management at UNSW Business School in Sydney. Warwick Business School (UK) retain the lead, followed by IE Business School (Spain) and Imperial College Business School (UK), a new entrant to the ranking.
MIP's International Flex MBA is inserted within an educational portfolio of excellence, joining about 40 Masters, including 7 MBAs and Executive MBAs, 200 open executive programmes and a series of training programmes customised for companies.
---
Tags:
Share
---