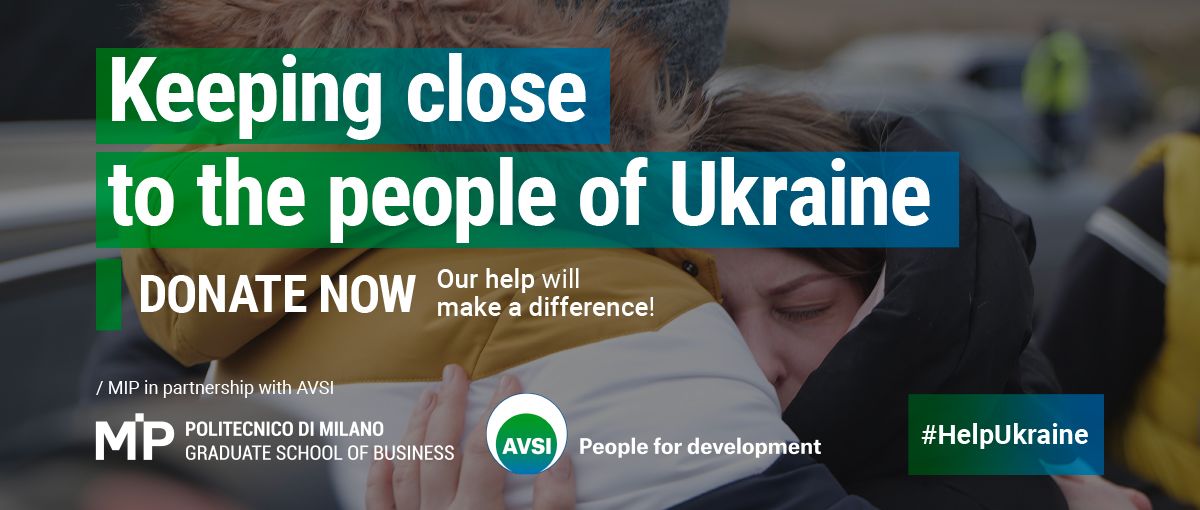 Since the 24th of February, the war in Ukraine is producing more and more civil victims, devastating livelihoods, damaging and destroying critical buildings, including schools, hospitals and hundreds of houses, as well as basic infrastructure systems and utilities.
We are asking everyone in our community at MIP Politecnico di Milano to make a contribution and help the stricken Ukrainian people!
There are more than 25,000 of us and together we can make a difference!
We are working with AVSI, an NGO based in Milan which operates in 38 countries across the world. We want our support to be on the ground in Lviv. This Ukrainian city is near the border with Poland, and refugees escaping from the eastern and northern parts of the country are heading there in their hundreds and thousands.
With your and our help, we can give our humanitarian aid, medical care and protection to vulnerable and displaced people in Ukraine, and will assist in providing:
food and other essential items
mental and social support services
access to medical supplies and basic medicines
MIP POLITECNICO DI MILANO GRADUATE SCHOOL OF BUSINESS – IS DONATING € 10,000 TO THIS CAUSE, AND WE HOPE TO KINDLE THE GENEROSITY OF OUR COMMUNITY.
A LITTLE GESTURE MULTIPLIED BY 25,000 CAN TURN INTO A BIG GESTURE!
PLEASE GIVE HERE