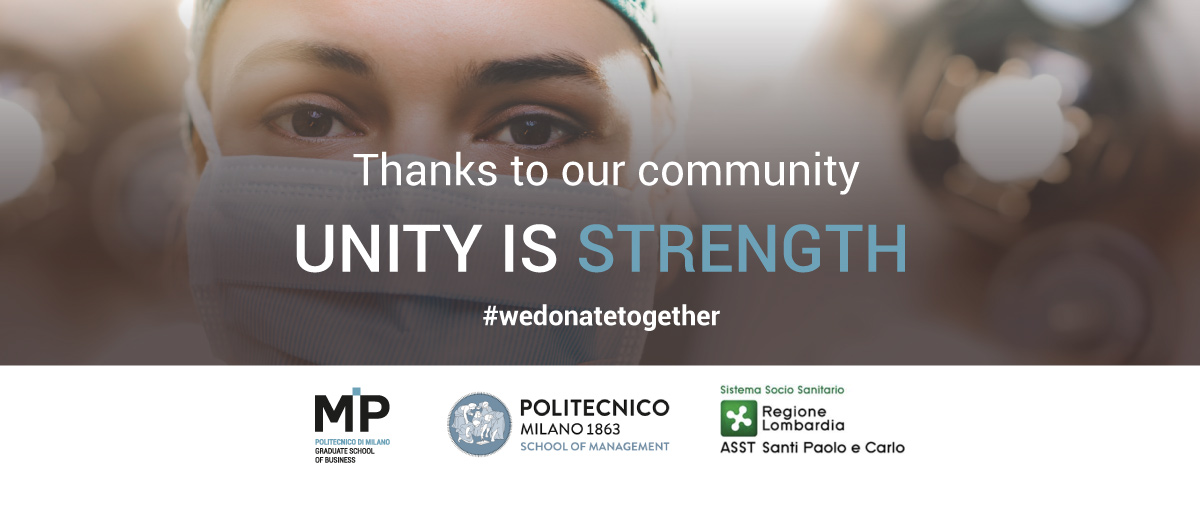 Unity is strength! Students, alumnae and alumni, professors and all staff of MIP and of the School of Management of the Polytechnic of Milan: together we have tried to give concrete support to the San Paolo and San Carlo hospitals in Milan, to the patients and to the medical staff who have fought relentlessly to treat patients affected by Covid-19.
The active participation in the fundraising initiative launched by MIP demonstrated that a small gesture, multiplied by 263 donors, can become a great one. With a total of 32,973 Euros, we contributed to add new posts in intensive care department, essentials for saving lives, and to meet the great need of single-use protective devices such as masks, gloves and coveralls, allowing doctors and nurses to operate in greater safety.
The fundraising campaign took place in close coordination with the management and staff of the hospitals, at the forefront to fight against the serious consequences related to the rapid spread of Coronavirus, and the funds were directly and promptly donated to them. Matteo Stocco, General Manager of ASST Santi Paolo e Carlo in Milan, warmly thanked our School and all the contributors for the donations.
"We implemented concrete initiatives to face the emergency from a educational point of view. But, at the same time, we also tried to give our contribution to face the emergency from the health point of view. Thanks to the whole  community of our School, students, alumni, staff and teachers for the generosity and the solidarity spirit shown in this occasion! " Vittorio Chiesa, Chairman of MIP Politecnico di Milano.