2 July 2019
Share
---
made in Italy Marketing
The three I's of excellence: identity, ideas, innovation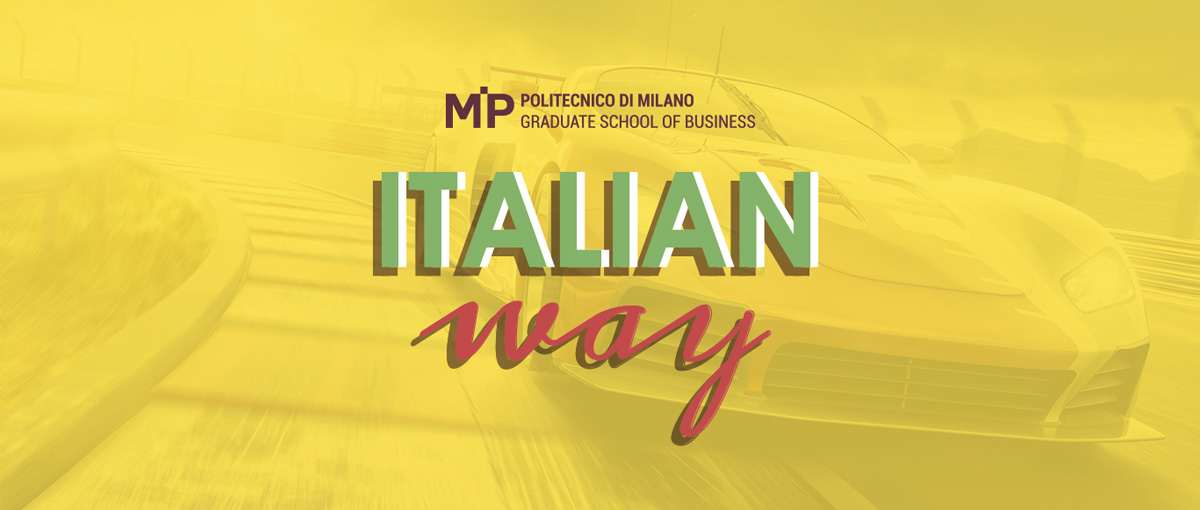 The ability to innovate without losing sight of tradition, combined with the highest expressions of design and industry. These are the crucial elements that characterise the excellence of Italian business in the world, as emerged in the Italian Way module, which took place in May and is part of the International Master in Marketing Management, Omnichannel and Consumer Analytics programme of Politecnico di Milano's School of Management. Numerous companies took part, telling students about their own experiences, in a wide variety of fields, and surprisingly similar global challenges.
Growing without losing your identity
One of the common challenges that was illustrated during the Italian Way module is the necessity of growing, while not losing one's identity.
«In Alessi (a well-known Piedmont-based producer of design objects) we undertook an internationalization strategy that aims at expansion in the US and Asian markets», explains chief executive Marco Pozzo. «We want to grow, but also during this process our priority is preserving our Italian DNA. Adapting to the needs expressed by the different geographical areas doesn't mean distorting the brand, not at all. We want Alessi to preserve its own identity, embracing approaches to the table that are different like the Asian one, but also democratizing the approach to design products. In the United States, for example, there are several of our objects that are part of the permanent collection of the MoMA in New York. But we want design objects to become an integral part of everyone's daily life».
The courage to risk
From the table to the street, the distance is shorter than you think. Indeed, in the MoMA in New York, we also find the Vespa.
«Our philosophy is clear: to maintain a strong   coherence with the past, but always focussing on innovation, both technological and design», says Davide Zanolini, executive vice president for marketing and communication at Piaggio. «What distinguishes us in the world is the courage to risk a bit more than others. We were the first to present a three-wheel scooters, the first to experiment with hybrid. In this we recognize our Italian character, as well as in a very strong engineering-technological vocation that is displayed to the public with elements of iconic design».
The team spirit  
Innovation, technology and design are also three of the characteristics on which Ferrari concentrates to consolidate its brand identity in the world. «We are proud to represent Italian excellence», explains Dennis de Munck, head of employer branding. «Above all, we want to focus on team spirit. Just as Ferrari is the racing team that all Italians and millions of people in the world root for, in the same way we want whoever works with us to feel they are part of a great team, whose goal is to respond to challenges with the strength of ideas and innovation. Excellence is what sets us apart, on and off the racetrack, and will continue to deliver it. For this reason, we are always on the lookout for top talent».
Welcoming diversity
Openness to the world and to diversity is therefore another characteristic on which Italian companies focus.
«To be international we try to open ourselves to different cultures», stresses Laura Salviati, training and communication manager at Artemide, a leading company in the lighting sector. «In the world, the approach to light varies greatly from one country to another. In industrial production, however, Italian excellence must be recognized. Abroad it's much more difficult to find industries able to support us in productive processes. In Italy we have at our disposition know-how that succeeds in putting together craftmanship and industry. We're not interested in producing at the lowest possible cost, but in quality».
Local taste, global excellence
If Artemide values territorial know-how, there are those who focus on other resources and a completely different type of raw materials, this time in the food sector. One such person is Tancredi Alemagna, founder and chief executive of T'a Milano:
«We take the best chocolate on the market and we combine it with almonds from Avola, lemons from Sorrento, Sicilian pistachios. We feature, when possible, the food specialties of our country, proposing a real Italian journey of taste. From the chocolate bar to packaging, everything must reflect our values: Italianness, quality and design».
---
Tags:
Share
---