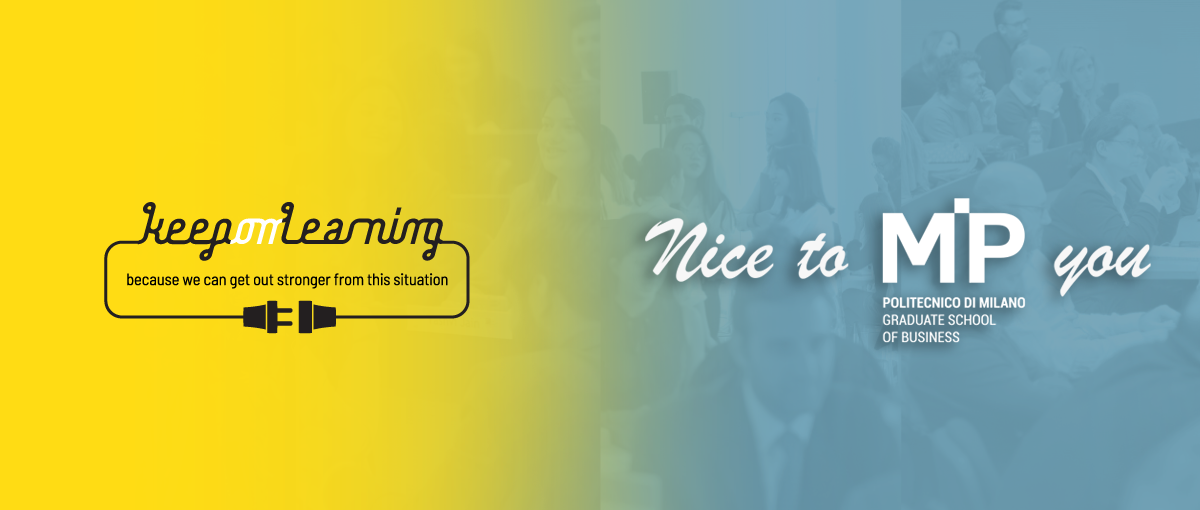 KeepONLearning is reaching an end. Four months after it was launched at MIP Politecnico di Milano, the initiative devoted to continuous learning and directed at its stakeholders arrives at its natural conclusion, making way, in September, for the safe reopening of the campus. From March to July, KeepONLearning offered an uninterrupted flow of course content and in-depth study material to a vast community of students, businesses, teachers and partners, engaging top managers and professionals of the highest level on the international scene. This meant that not only were students able to continue on the courses on which they were enrolled, but that even businesses and partners had access to a range of material that, among other things, had the objective of providing tools useful for tackling the Covid-19 emergency.
Before launching KeepONLearning, in the last week in February, MIP began by moving all education online, in order to ensure the delivery of courses without interruption: not an easy feat, but made possible in part by the fact that MIP has already for years been focusing attention on digital learning.
Two weeks later, on 18 March, we launched KeepONLearning, in part thanks to the staff at MIP, who worked with enthusiasm and conviction towards the success of the initiative. Thus, a range of content was added to the MIP website and made available to our stakeholders: articles, webinars, online courses, talks with teachers and managers, operational tools, in-depth study material. A wide variety of information covering important subjects, such as smart working, the impact of Covid-19 on businesses and supply chains, the help that artificial intelligence can provide, the management of digital innovation during the emergency, even in a crucial sector, such as health, and much more besides that, with participation by multinationals, such as Microsoft, Lamborghini and Pirelli, and leading international figures, such as Carlo Cottarelli.
More than 90 live webinars organized recorded very high attendance, with over 20,000 participants. Thanks to KeepONLearning, the MIP website saw visits increase by over 60% compared to the same period in the previous year. These numbers reflect, on the one hand, MIP's commitment to its mission of sharing knowledge to the benefit of its stakeholders and, on the other hand, the great need for up-to-date expertise in a very rapidly evolving global horizon.
The university is set to reopen in September, when MIP will once again welcome in its lecture halls and on campus, in complete safety, people from all over the world, ready to exchange innovative ideas and points of view. This time, the motto will be "Nice to MIP You". This reopening will also carry with it the wealth of knowledge and discoveries gathered in these past months precisely thanks to KeepONLearning.