20 March 2019
Share
---
#MIPexperience International Flex EMBA
Why networking and social interaction are so important in digital learning!
| Author: Elivar Golemi, International Flex EMBA student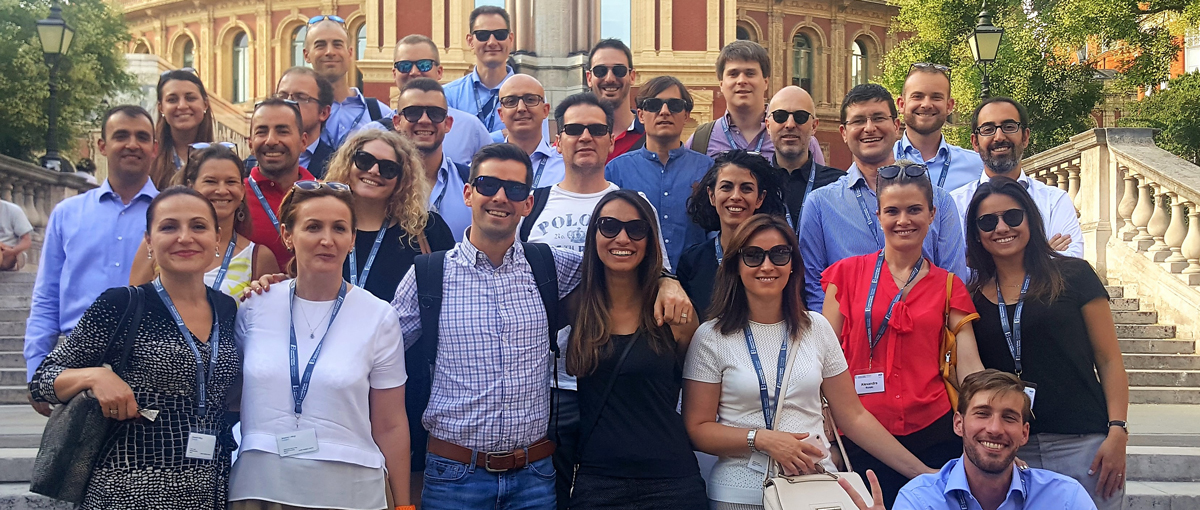 "Boarding completed!" It's 7pm and I am ready to fly to Milano after a long and busy day in my home city, Tirana. Tomorrow, it's back to school. We have another face-to-face week, a bootcamp organized at the premises of MIP Politecnico di Milano. I have the chance to meet up with some of my classmates again, but it's not only this. This is a good opportunity to meet other international students, studying at MIP Politecnico di Milano or at other business schools, as part of the international exchange program between business schools and universities around the world.
In general, there is prejudice toward online studying, based on the fact that learning isn't just an intellectual activity, but a social one. This is why many people would prefer traditional, as opposed to online learning, for the ultimate reason of avoiding the feeling of isolation and missing out on social interaction during the studying process. That was my concern too, when I first decided to register for an international online EMBA program.
But as this challenging and important journey reaches its end, I no longer have any doubts about the choice I made almost two years ago. The social interaction aspect of  the "online learning" process is not lacking at all, but of course it has changed form, through the use of digital platforms, just as the concepts of learning and knowledge have significantly changed lately. As Barr and Tagg say, "a college is an institution that exists to produce learning" (Barr, Tagg, 1996); it is obvious that there is an evolving shift from teaching to learning, which means more active participation in the gaining and sharing of knowledge among the participants of a learning community.
The first tangible aspect of this online EMBA program was the inclusion of a "warm-up" period at the very beginning of the journey, which helped us a lot in establishing the desired social interaction within our newly created community. The kick-off week in Milano was perfectly organized to support and facilitate the distance learning process over the following 2 years. It was a week full of discussions, emotions, curiosity, building trust through getting to know each other, training in self-awareness and soft skills, necessary for laying the groundwork for new friendships and a great network.
Another positive aspect of this virtual environment is the fact that the learning process is mostly based on working groups, facilitated by the MIP online learning platform. The roles and team members are continually changing for each course, thus giving everyone the opportunity to work with all the other classmates, as well to exercise leadership skills within a team, several times during the EMBA program. Alongside the clips presented by the professors and the weekly Q&A live sessions, in every course of this EMBA program we are engaged in virtual discussions within a team, where everyone must contribute something substantial to the project work: we can acquire information from the others, combined with that which we bring into the discussion based on our backgrounds and previous experiences.
Having said that, we have the opportunity to push our understanding beyond our own limits, by considering the ideas shared by other classmates in small groups. This kind of "learning by sharing" has the attributes of collaborative learning, as everyone within the class is changing their role from performing as an individual to creating knowledge as a group. The size of the group (four or five) is another important element to support collaborative learning in this virtual learning environment. In this way, knowledge creation is socially shared through the participation in virtual teamwork and on several video-forums organized on social platforms, such as Yammer. It means that the professors start to be more and more like coordinators, mediators or tutors in this learning process.
Last but not least, social interaction should be fed continually to stay alive and healthy in a remote environment. Almost every day we have some brief conversations for social networking within the group, trying to keep in touch with our classmates through different communication channels. The WhatsApp group created during the kick-off week in Milano has been kept active all the time, by posting comments, asking questions or sharing personal information to celebrate together, as part of a newly created set of friendships that helps us to motivate each other during this difficult and demanding period in our lives.
As I have already mentioned in one of my previous articles, we had the chance to prove the importance of our network, and the fact that social interaction through digital learning is so relevant and true, when we met face-to-face for the second time, with all the i-Flex students on the MIP International Executive MBA program. Everyone was so happy and enthusiastic to meet up again, but this time in the beautiful city of London. During the week, we had the opportunity to further strengthen our relationships within the group, having the chance to get to know each other better, not only during the day on campus, but also by enjoying the events organized together after school time, such as sightseeing around the city, visiting museums or having fun together in London's very nice old pubs and restaurants. The positive energy created during that week was our motivation for a long time to keep going through the online learning process, while working and fulfilling family responsibilities.
The future of the labor market is smart working and I must confirm that this online platform was the best opportunity for me to recognize how to communicate, interact and socialize with people online and how to enlarge my professional network through digital means of communication.
About the author
Elivar Golemi

Elivar Golemi is an Albanian candidate at MIP International Flex EMBA. She is working as an Executive Director in the dairy industry, after a long experience in the banking system. Skilled in Financial Analyses, Risk Management and Internal Audit. Nature lover, passionate photographer and mountain climber.
---
Tags:
Share
---