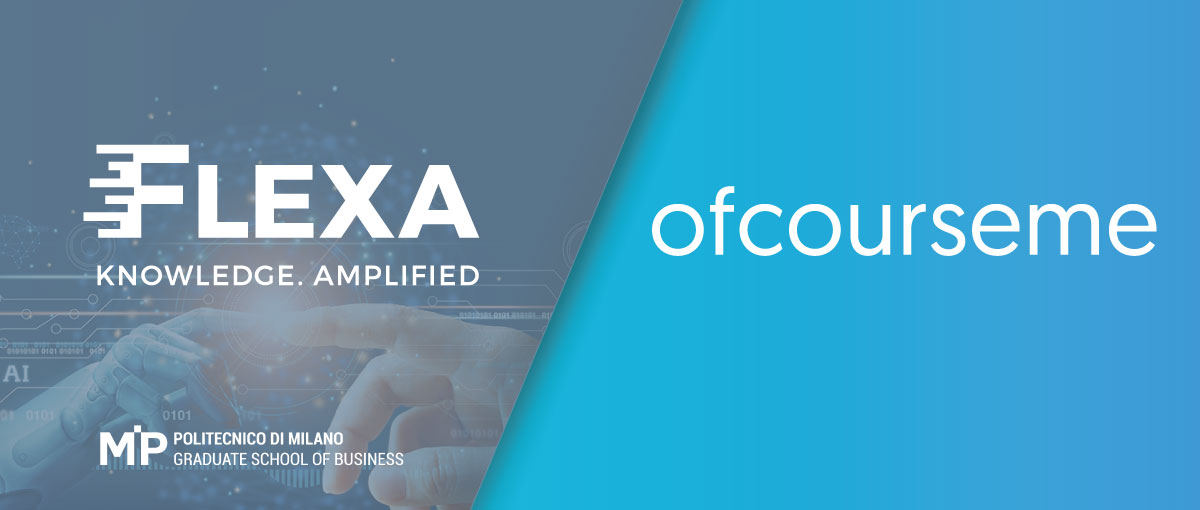 With these brief words, Federico Frattini, Dean of the MIP Business School of the Politecnico di Milano, described the FLEXA project, a personalised and continuous learning platform based on Artificial Intelligence mechanisms developed over the last 4 years by a team of over 20 people. The project is rightly considered to be one of the most innovative and successful experiments in making training a virtuous habit to which we devote time every day.
Federico spoke about it with emotion and pride in a recent interview with Sole24Ore, in which MIP announced the decision to open FLEXA free of charge to private users who want to embark on a personal reskilling journey.
But where did this project come from, and what role does OfCourseMe play in FLEXA?
It all goes back to the spring of 2018, when OfCourseMe and the FLEXA Team first met to share their vision of how it was necessary to build lifelong learning journeys by leveraging the wealth of open access training content on the web.
"In the last 15 years, we have seen an exponential growth in the number of sources and formats for personalised and continuous learning," recalled Frattini, "but no one had yet tackled the problem of organising this abundance and making it usable in a guided way for people, starting from an analysis of their own skills. We saw an opportunity to bridge this gap with FLEXA and we met with OfCourseMe at the right time."
In fact, FLEXA was created with the aim of helping users to gain an overview of any gaps in their knowledge and to construct learning itineraries, translating the academic experience of MIP into a product. However, one of the challenges it faces is organising the content. It's just like a teacher who has to steer a student through a very well-stocked yet very diverse and extensive library.
This is where OfCourseMe comes in: developed as a search engine that organises and standardises tens of thousands of items of online training content, OfCourseMe immediately proved to be a valuable partner for the FLEXA team. Using OfCourseMe's API, FLEXA was able to outsource a powerful search engine that aggregates and classifies over 500,000 titles, in over 20 languages and a variety of formats.
"OfCourseMe has provided us with features that we would have struggled to develop and maintain independently. In addition, OfCourseMe continues to add new sources every month, and we can always leverage the freshest content from the Web to offer personalised recommendations to users of our product, all on a fully automated basis," says Frattini.
So what are the next steps?
To date, FLEXA has welcomed more than 3,000 users: mainly Alumni or students of the MIP Masters courses. The idea is that, soon, FLEXA will be extended beyond the perimeter in which the initiative was established.
"From the very first exchange of ideas on this matter, the strategic alignment between the FLEXA team and us was clear," concluded Davide Conforti, CEO of OfCourseMe. "The ambition now is to work together to make personalised and continuous learning in the company a virtuous routine, in a context where upskilling and reskilling have become categorical imperatives."
FLEXA and OfCourseMe boast an absolutely excellent solution ranging from assessments to training content recommendations, on-demand curation and indexing of proprietary content… Basically everything you need to be ready for the future.